Woman attempts to swear in Raila in Bondo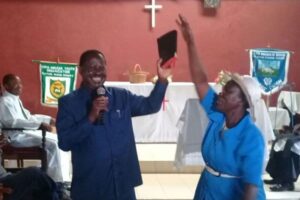 An elderly woman attempted to have Opposition chief Raila Odinga take oath of office as the people's president at a church in Bondo.
The woman, carrying a Bible, shot up from the congregation and approached the Opposition leader, insisting that he must take the oath.
There were ululations as a smiling Raila, apparently not keen in disappointing the woman, took the Bible but just smiled and assured the congregation that he would take the oath at a later date.
Raila said he would not give up on his quest to reclaim what he termed stolen victory.
"I want the doubting Thomases to know that I will be sworn in as the People's President in the coming weeks. This is because I won the elections and those doubting this can look at the IEBC servers," said Raila.
He added: "This is why I will not rest until I reclaim my victory."
Raila, who was speaking at St. Peter's ACK in Bondo said that as the opposition, they will not let it go.
Many have been saying that we let it go for the stability of this country, but we are telling them that we are going to reclaim our stolen victory," he said.
He said that he was recently offered a Bible in Mombasa but he declined, arguing that the right time will come.
The opposition chief, who was making a public appearance in his home town since the postponement of the swearing in on December 12, vowed to reclaim his stolen victory, saying that he will not let it go.
"I understand how eagerly you are waiting to see me taking oath but be assured that next year will be a good year for all Kenyans," he said.
He said the Opposition had seen the details of the IEBC server and were very confident to continue with the swearing-in plans.