Death Announcement For Jane 'Kakuve' Munyao Of Queens, NY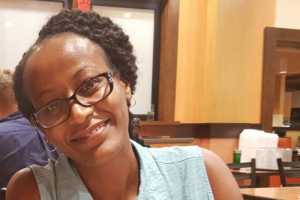 It is with profound sadness that we announce the passing of our dear Jane "Kakuvi" Munyao on December 27th, 2017 at New York Presbyterian Hospital, Queens after a short but arduous battle with cancer. She leaves behind her husband, Charles Munyao, children Cindy (17) and Ryan (11), and brother, John Thuko of Wichita, Kansas among other family members.
 Daughter to Daniel Nthuko and Pauline Katunge of Ruai. Sister to Gregory Mulinge of Ruai, Fidel Kamonde and John Thuko of Kansas, and Joseph Matu of Mombasa.
Funeral arrangements are underway.  Jane's family kindly requests your prayers, contributions, and support as they prepare to lay her to rest in Kenya. Tentative dates are as follows: Memorial service is on January 6th, place and time TBD; Jane and family to travel to Kenya by the 7th; and, service and burial in Kenya on the 12th. Your contributions will go a long way in helping us actualize these goals.
Citibank- Charles Mutuku Munyao – Routing#:021000089; Acct.#: 9994904559
For further information you can contact the following:
Jane, you have fought the good fight, you have finished the race, and you have kept the faith (2 Timothy 4:7.)