Quincy Timberlake's Ex Wife Appeals For Donations To Help Her Kids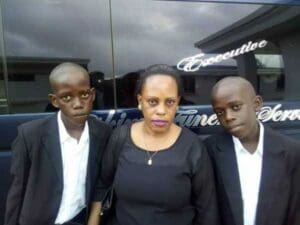 Quincy Timberlake who is the current husband to former news anchor has been accused of abandoning his three son which he sired with ex wife Rose Mueni Mutua.
Rose Mueni Mutua took to social media to ask the general public to contribute to her sons education and housing.
According to the ex wife Quincy Timberlake deleted all their photos before marrying Esther Arunga. She says he also cut off all communication with them after relocating to Australia with the former news anchor.
Rose Mueni says that they currently survive from the goodwill of friends  and currently reside with friends in Tena estate Nairobi. She says her three sons Trevor Timberlake, age 17, Quincy Timberlake, age 13 years and Cassidy Timberlake, age 11 are still in school yet she can not afford to keep her oldest son in Secondary school due to the high cost of boarding school. The other two were lucky enough to receive scholarship from Learners' Paradise, Nasra Garden Estate.
She also says that her sons have not been allowed to have any sort of relationship with their half brother.
Rose Mueni Mutua said that she had been married to Quincy Timber lake for ten years before he abandoned then to marry news anchor Esther Arunga who was also engaged to another man.
The two alongside Maestro Joseph Hellon wanted to be presidential candidates and even founded the placenta party. They were accused of also running an illegal society by the name Finger of God.
Quicy Timberlake and Esther Arunga relocated to Australia where he was was accused of trying to kill his son in the name of exorcising demons. He was admitted to a mental hospital in Brisbane Prince Charles Mental Health Hospital in Australia.
Rose Mutua has said that the money from the fundraiser will help her start a retail Shop and also to buy school uniforms for her children, It will also enable her to pay for her own house.