Fall of Nasa looms as Raila 'snubs' meeting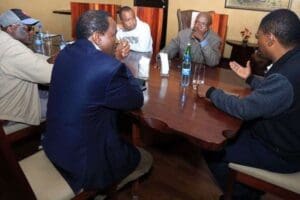 Cracks in the National Super Alliance widened on Sunday following revelations that opposition leader Raila Odinga will not attend a meeting of co-principals on Monday.
The turn of events tests the strength of a coalition battered by head winds and storms since Mr Odinga took a controversial 'oath' at the end of January, and there are fears that the ODM leader's sudden about-turn to parley with President Uhuru Kenyatta on Friday, without the knowledge or approval of other principals, could have dealt the death blow on Nasa.
Monday's meeting's schedule was finalised last week, and now questions are being raised on why Mr Odinga played along if he did not plan to attend.
It will be in Athi River, on the outskirts of Nairobi.
Ford-Kenya Party leader Moses Wetang'ula on Sunday said the meeting, which they hope will shed light on what transpired before and on Friday, is still on.
During the burial of Ms Wavinya Ndeti's father-in-law on Saturday, Wiper party leader Kalonzo Musyoka also said the meeting is on.
"We have agreed to meet on Monday to know what happened on Friday…but my heart is at peace. I feel vindicated," Mr Musyoka said, without giving details.
"What I have been preaching will happen."
But as Mr Musyoka and Mr Wetang'ula rolled up their sleeves for the meeting, Mr Odinga's spokesman Dennis Onyango was telling the Nation that he was not aware of any plans for Nasa to meet.
A source close to the opposition leaders, who sought anonymity because of the sensitivity of the matter, said Mr Musyoka, Mr Wetang'ula and Amani National Congress leader Musalia Mudavadi had formed a penchant for taking sides and opposing every opinion that Mr Odinga presented during meetings, much to the chagrin of the ODM leader.
"A man can only take blackmail for so long," the source said.
"They opposed the People's Assemblies and went for the quest for electoral justice, then asked Mr Odinga to help them focus on the 2022 elections.
"It is as if only they know where the door to Jubilee house is. All the three care about is 2022 just because of an agreement that bars Mr Odinga from contesting the presidency."
These comments have cast a dark cloud over Monday's meeting.
Most importantly, they point to the heavy matter of contention within Nasa that the four leaders keep brushing aside; a coalition agreement that bars Mr Odinga from vying for president again.
Exasperated by Mr Odinga's lone ranger antics, the co-principals met for the first time late on Sunday to review the events of the week and plot a response.
ANC Secretary-General Barrack Muluka said the decision by Mr Odinga to close ranks with Mr Kenyatta was not a surprise "as that has been his style of politics, and Nasa must now come to terms with the fact that it has lost one of its kingpins to Jubilee".
"Odinga's unilateral flight into the Jubilee Party corner is true to his surprise-and-attack style of politics," Mr Muluka said, adding that even though Monday's meeting had been prearranged, only three of the principals would attend, suggesting that Mr Odinga was not welcome.
"It is the three principals who will have to sit and decide whether to incorporate Mr Odinga," he said.
"Even if they incorporate him, they will be stretching it because he is already an outsider."
The fall of Nasa is a culmination of a series of events that have rocked the coalition since January 30, when Mr Odinga was "sworn in" as the people's president in a ceremony skipped by the other principals.
During an ODM national governing council meeting early this month, the party told its allies in the coalition that it was ready to go it alone if pushed.
The threat came days after Mr Odinga said he had been betrayed.
"I will not be surprised if some people abandoned the journey. Even Jesus was betrayed by one of his closest disciple, Judas. Some people may want to betray us," he said during the burial of Siaya Senator James Orengo's uncle but did not elaborate.
But Mr Odinga's economy with words did little to hide the source of his agony, for just days earlier Wiper had employed the support of Jubilee to force through Borabu MP Ben Momanyi as member of the Parliamentary Service Commission.
-nation.co.ke