Moral Decadence: Blow as Tanzania bans Diamond Platinumz songs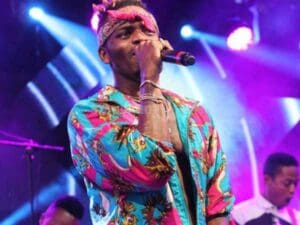 Hardly three weeks after being publicly dumped by his long-term partner, Tanzanian Bongo great Naseeb Abdul Juma, popularly known as Diamond Platinumz, is in more soup.
The 28-year-old, who was ditched by his Ugandan lover, Zari Hassan, on Valentine's Day, is among musicians whose songs have been banned in Tanzania.
The decision comes after Tanzanian President John Magufuli complained about moral decadence in Tanzania's showbiz, citing proliferation of numerous ratchet videos on the country's TV stations.
On Wednesday, the Tanzania Communications Regulatory Authority (TCRA) published a list of 15 songs banned from all media stations and handed it to various media houses.
He further accused top artistes of breaching broadcasting laws.
Among the 15 are Diamond's hit songs Waka Waka, featuring American rapper Rick Ross, and Hallelujah, featuring the legendary reggae group Morgan Heritage, who are both Grammy Award winners and 2017 nominees for the award.
Waka Waka was released in December last year and is doing well on YouTube, with over 5.9 million views.
Hallelujah debuted last September and has been viewed over 8.7 million times on YouTube.
Warm reception
The two international collaborations received a warm reception from fans across the world. But the regulator says the two songs do not adhere to 'accepted moral standards in the country'.
Some of the music videos feature suggestive dancing and sexual innuendo.
Diamond has been slapped with the ban just days after he was handed a broadcasting licence for Wasafi TV and radio.
The ministry said in a statement the list of the banned songs was compiled by the State's body in charge of arts and culture, claiming the blacklisted songs did not meet the moral threshold required for public consumption.
"TCRA has received the list of the songs from Baraza la Sanaa la Taifa (BASATA). The list of the blacklisted songs has been circulated to various media houses as per the requirement," read the statement.
Last year, the Tanzanian Government also banned socialites from posting nude photos and videos on social media.
Affected artistes are Vanessa Mdee's sweetheart Jux, Ney Wa Mitego, famous for Pale Kati Patamu, and Maku Makuz.
Roma Mkatoliki, Kibamia, Gigy Money, and Snura Mushi are some of the biggest Bongo artistes whose songs were prohibited.
Others include Hamad Ali (Madee) for the song Tema Mate Tumchape, Jumma Musa for Uzuri Wako, Gigy Money (Nampa Papa), and Barnaba (Nampaga).
Diamond and the other affected musicians have not commented on the ban.
Affected musicians
Zari is the mother of Diamond's two sons.
In Kenya, music fans and promoters have condemned the action, terming it a ploy by the Tanzanian Government to destroy some of its popular musicians.
Many Kenyan musicians and supporters are of the opinion that the song Hallelujah, featuring Morgan Heritage, does not have the content insinuated by the government.