VIDEO: President Uhuru Visit His Father's Statue In CUBA
Cuba honours Kenya's founding President as a liberation hero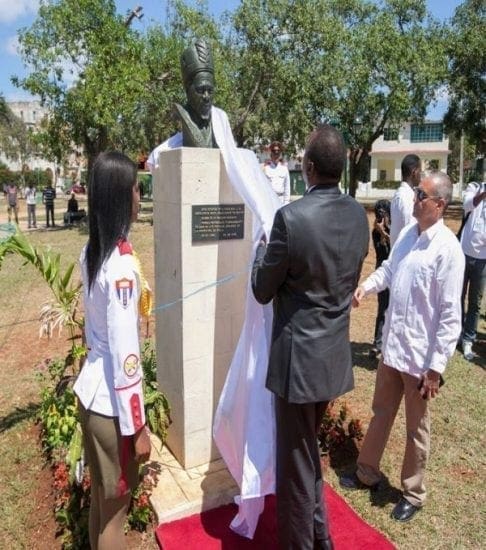 HAVANA, Cuba, 15 March 2018 (PSCU) — Cuba today honoured Kenya's founding father, as a towering figure in African and Caribbean liberation movement.
A bust of founding President Mzee Jomo Kenyatta was unveiled at the Park of African Heroes in Cuba on Thursday at a ceremony attended by President Uhuru Kenyatta.
Cuban leadership said the unveiling of the Bust of the late President Kenyatta at the Park of African Heroes in Havana was significant as it goes along way in demonstrating the rich history Kenya and Cuba have in terms of Liberation struggles.
The park was built for heroes who relate to the liberation struggle of African independence from the colonial powers.
Mzee Jomo Kenyatta's bust is the 17th of the African Heroes on display at the Park.
The recognition of the Late Mzee Jomo Kenyatta as one of African Heroes is a clear manifestation of his premier place among others in African history.
Speaking during the unveiling ceremony, President Kenyatta thanked people of Cuba for their selfless and persistent solidarity with the African people.
President Kenyatta said Africa and the African peoples would forever be grateful to Cuba as they have been the biggest benefactors of Cuba's revolutionary stance.
"Africa will forever cherish its relationship with Cuba. Together we will continue to forge mutually beneficial partnerships for the prosperity of our peoples and nations," said the President.
"I take this opportunity to thank you and the people of Cuba for your solidarity and comradeship in the African liberation movements against colonialism, settler imperialism and apartheid," said the President.
He pointed out that the Cuban people held strongly to the deep conviction that their freedom was inextricably linked to the freedom of Africa.
He pointed Kenya would not take for granted honour granted to its founding father, as the Park recognizes and celebrates the huge contributions of Africa heroes made in the liberation struggle for Africa.
"In honour of our founding fathers, Kenya and Cuba will continue strengthening relations through the principled development of human relationships based on mutual respect," said the President.
President Kenyatta pointed out that it is the historical relationship that the two countries celebrate as it continues to inspire a new generation of African-Caribbean leaders.
"It is worth noting that during the Cuban revolutionary war, Fidel Castro named one of the Brigades the 'Mau Mau' in honour of the freedom fighters in Kenya," said President Kenyatta.
The Cuban Minister for Culture Abel Prieto termed the late Kenyan founding father as an icon whose example of heroism inspired many to take up arms against the colonial masters.
"Kenya's rich liberation struggle story became a big inspiration to the Cubans resistance against imperialism," said the Cuban Cultural Minister
Several African-Caribbean diplomats representing their countries in Cuba attended the ceremony.