Multi-million jackpot winner collects cheque in emoji mask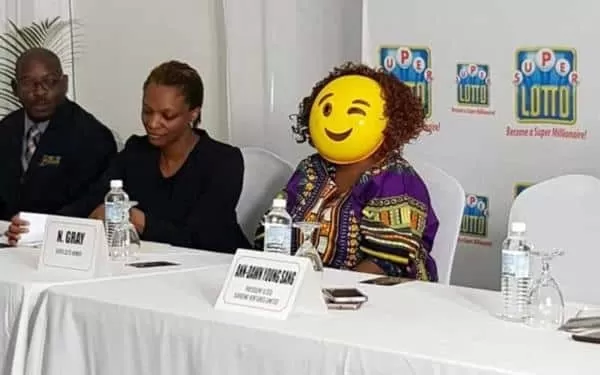 A photo of a lottery winner in an emoji mask has gone viral attracting over 5,000 likes on Twitter.
The woman, identified only as N Gray showed up in a wink emoji mask to collect 180 million Jamaican dollars (Over Sh141 million) that she won on May 11 as part of the Super Lotto jackpot.
It is reported that before she won, Gray was swimming in debt.
Gray walked away with the bonanza just a few months after she religiously started playing the Super Lotto game.
"God allowed this to happen. I am elated, because I was drowning in debt. I started buying Super Lotto in January, and I normally choose random numbers," she toldThe Gleaner.
According to theJamaica Star,Simone Clarke-Cooper, a representative of the company, noted that since Super Lotto started, winners have been wearing disguises to protect themselves.
The Jamaican Citizen dressed in loose-fitting clothing to further conceal her identity. This trend seemed to amuse people online:
That's the rule for that state's lottery.

But being that she took almost everyone she knows with her… even with the mask, she still went public. LOL
that's my step cousin best friend sister. I haven't talk to her in a while.

See yohannes's other Tweets
that's my step cousin best friend sister. I haven't talk to her in a while.

See yohannes's other Tweets
ByDavis Muli
-sde.co.ke