Our beds are cold: Female inmate want Govt to allow spouses in prison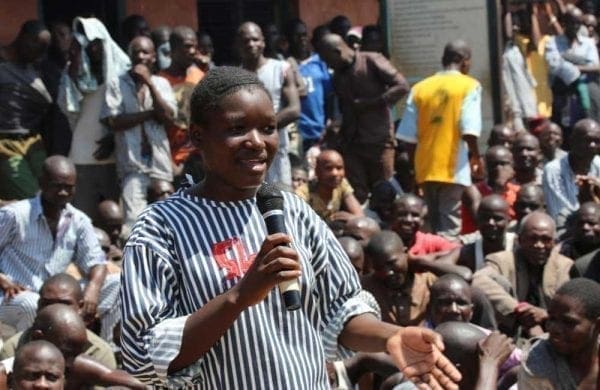 A female inmate at Kakamega Main Prison wants the government to allow jailbirds to bring along their spouses to prison.
Maurine Tsisika Shikhemi, who is serving a sentence for being found in possession of narcotics said that being separated from families leave them sexually starved and emotionally broken.
Shikhemi was speaking during a oepn day at the Prsion which was attended by officials from the judiciary, Law Society of Kenya (LSK) and Office of the Director of Public Prosecutions (ODPP).
"I am happy that the chief Magistrate is around. My request to you and others magistrates is that, when you sentence someone who is married, please bring along their spouses so that the family can be  together. There is no need for the families to be far apart," said Tsisika to the applause of fellow inmates.
The 29 year old lady further pleaded for the judicial officers to show leniency when sentencing single people since they will never get married.
"When you observe keenly the inmates in this facility, you realize that majority are the young men and women. I speak on their behalf. Please allow them to have families too and enjoy a fulfilling life," she added.
She also asked the authorities to allow female and male inmates to interact.
"These huge walls separating the men and the women prisons are a barrier. We need to bring them down," she said.
The event was attended by Kakamega Chief magistrate,  Bildad Ochieng, LSK President- Kakamega Chapter Charles Matete, a host of lawyers and Prosecutor, Jebichii Kibet.
The LSK boss pleaded with magistrates to show leniency when sentencing petty offenders saying small fines would give the accused persons lessons to learn.
"When someone steals a hen for instance, don't sentence them. Tell them to pay for the hen and remand them for five days to serve as discipline," said Matete.
The inmates got a rare chance to address their grievances.
By Jack Murima