VIDEO: I'll take my 'tanga tanga' responsibility seriously, says DP Ruto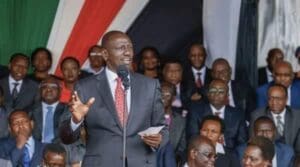 NAIROBI, Kenya, June 2 – Deputy President William Ruto on Saturday made light of President Uhuru Kenyatta's statement over his frequent tours across the country that generated mixed reactions on social media.
While speaking at the burial of Virginia Ciarùnji Njoka, mother to National Assembly Speaker Justin Muturi in Embu, Ruto thanked his boss for allowing him to inspect development projects in the country, as the government strives to deliver on its development agenda.
"For the permission you gave me, and the order, I want to report that the Mathathari-Shiakago-Ugweri road has been completed," he said amid laughter.
In a quick rejoinder, President Kenyatta while ordering the Ministry of Education to build a science laboratory at a local school in honour of Muturi's late mother humorously said that his deputy will inspect the institution to confirm that the job has been done.
"I've heard that there's an institution here where Speaker Muturi schooled that has no laboratory. I want the Education Cabinet Secretary to make sure that the laboratory is constructed so that while William is touring and 'loitering' around here, he can check that it is complete," he remarked.
Kenyatta's statement on Ruto's visits across the country had attracted mixed reactions with some interpreting it as a rebuke, especially when he used the Swahili word "tanga tanga" which is used interchangeably with another Swahili word "zurura" translated to mean loitering.
"This young man called Ruto moves around the entire country every weekend. He will be passing by here so if you see something amiss let him know so that we ensure citizens are served," the Head of State had said on Wednesday even as he issued a stern warning to contractors delaying the completion of road projects.
Kenyatta was speaking during a stopover shortly after issuing 50,000 title deeds to landowners at Jacaranda Grounds in Embakasi East where he announced the allocation of Sh4 billion for construction of roads in the area.
Those familiar with President Kenyatta's use of the national language, however, read no ill-will in his remarks on Ruto's countrywide tours.
In April 2014 for instance, President Kenyatta while departing from the Jomo Kenyatta International Airport to attend the 4th Africa-European Union Summit in Belgium had used similar words to caution top government officials of their safety at a time of increased terror attacks in the country.
"These terrorists must know we're not playing games. Tell all these people, even your wife Rachel to stop moving around because we will deal firmly with these terrorists," he told the Deputy President at the time before departing for Brussels. 
By JEREMIAH WAKAYA
–capitalfm.co.keAKAYA