Ex-minister Ochillo Ayacko turns down Uhuru's job offer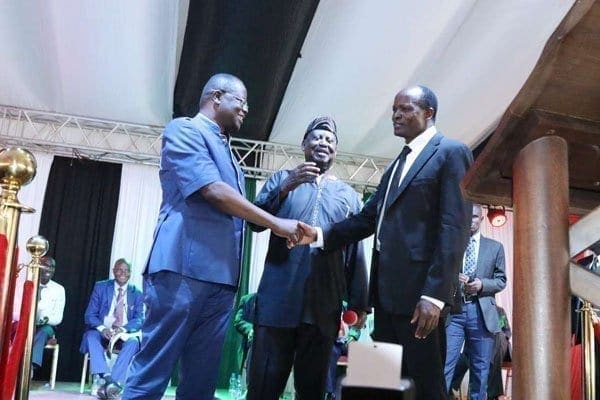 Former Cabinet minister Ochillo Ayacko has declined nomination as an ambassador, saying he "wants to serve the people of Migori County in any capacity."
But Mr Ayacko has thanked President Uhuru Kenyatta and ODM leader Raila Odinga for the nomination that was announced on Friday by acting State House Spokesperson Kanze Dena.
"I am ready to serve the great people of Migori either as a ward rep, MP, senator or governor and that is where my focus is," Mr Ayacko told the Nation.
Mr Ayacko is eyeing the Migori senate seat that fell vacant after the death of Mr Ben Oluoch Okello on June 19.
After he rejected the offer, State House replaced Mr Ayacko's name with that of Mr Paddy Ahenda from Homa Bay County.
An ODM source told the Nation Mr Ayacko may be given a direct nomination for the party's ticket.
"We are going to give him the ticket. Why would one decline such a lucrative job? He will be our candidate in Migori," said the top ODM official.
INTERESTED CANDIDATES
The move by the former Rongo MP to reject the nomination may unsettle politicians who have declared interest in the vacant seat.
Others who have declared interest include former MP John Pesa, trade unionist Samuel Orwa and Mr Maka Sembo.
Names of former Cabinet minister Dalmas Otieno and former Nyatike MP Edick Anyanga have also been touted by residents as possible candidates for the seat.
Signs that Mr Ayacko was eyeing the seat began to show last week when Mr Odinga reconciled him with his rival  Migori Governor Okoth Obado during the burial of  Mr Okello in Kanyimach village in Rongo.
Mr Obado and Mr Ayacko fiercely battled for the Migori governor's seat, first in ODM primaries and later in the General Election last year.
Mr Obado clinched the ODM ticket and Mr Ayacko opted to vie as an independent candidate but lost to Obado in the end.
The former Cabinet minister later filed an appeal at the High Court, that he lost, and later moved to Court of Appeal in Kisumu where a ruling is expected later this month.
HANDSHAKE
While addressing mourners at Mr Okelo's funeral, Mr Odinga first called Mr Ayacko to the podium asking him to bury the hatchet with Mr Obado.
Mr Odinga first called Mr Ayacko, who dashed to the podium within seconds, apparently privy to the move while the county chief appeared caught unawares, and reluctantly walked to the dais where they both sandwiched Mr Odinga and later shook hands.
But before the handshake, the unamused Mr Obado animatedly engaged Mr Odinga for about a minute. The governor later said in Dholuo "ng'ani osebedo ka njawa ga saidi" (this guy has been spoiling my name a lot).
After the handshake Mr Obado again whispered to Mr Odinga that Mr Ayacko's court case was still active prompting the ODM leader to persuade Mr Ayacko to drop it. Mr Ayacko pledged to drop the case.
-nation.co.ke