Lifestyle audit meant for all public officials, says William Ruto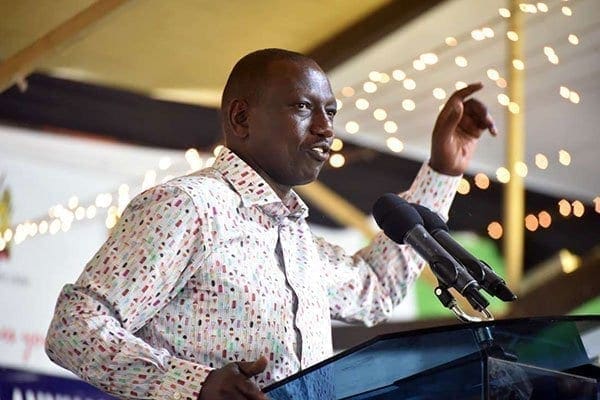 Deputy President William Ruto has said that he is willing to reveal how much he is worth to the public. He added that the proposed lifestyle audit was not targeting him as the public has been made to believe.
In an interview with NTV on Sunday night, Mr Ruto dismissed claims that he owns a chain of hotels and a number of choppers.
"All these are speculations which are not based on any evidence. I have been linked to several hotels such as Six Eighty, Boulevard…and several choppers…I want to put to the public on what I rightfully own," he said.
The DP has been linked to ownership of high-end hotels in the city, putting questions to how he might have acquired them, in comparison with his monthly salary.
SPECULATIONS
According to Salaries and Remunerations Commission's figures, the DP gets a monthly salary of Sh1.4 million.
Mr Ruto also said that he just owns one house he built at Sugoi, unlike speculations that he owns the Karen residence, where he stays.
"This is a government house, though it has been listed among palatial homes I am alleged to own," he said.
However, he remained cagey on his alleged source of massive wealth, saying that he depends on his salary, just like other public servants.
HUMBLE BACKGROUND
The DP said that there has been a stereotypic perception, when people from humble backgrounds make it in life.
"The other day, I was in Kakamega. Someone from the crowd shouted: Mtoto wa maskini akipata, ameiba, lakini mtoto wa tajiri akipata, ni ya babake." (When a peasant's child makes it, he has stolen, but when a rich man's child makes it, it his father's).
On Jubilee's 2022 succession politics, Mr Ruto said that his political pact with President Uhuru Kenyatta did not mean that (Uhuru) would have to automatically support him to contest for presidency.
He said that though he will seek presidency, he would participate in a nomination process for Jubilee Party, terming himself a 'democrat.'
-nation.co.ke