Protests as county First lady donates oversized underpants to school boys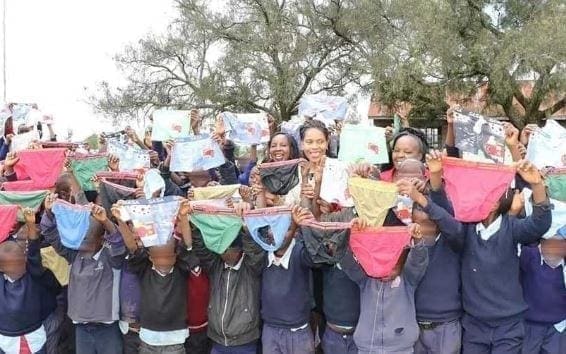 The move by the Nyandarua County Government to offer underpants to school boys under its mentorship program has caused acrimony and condemnation from residents.
Photos of the county first lady Anne Kimemia donating oversized underpants to pupils at Munyeki primary school last week went viral on social media attracting a huge debate on the new development.
Residents in the county have since protested against the move by the county government to mentor school buys through such means.
On Friday, the first lady Ms Kimemia launched the initiative at Munyeki primary school in Ol Kalou where over 200 boys were given the underpants.
Most of the residents called for the office of the first lady to instead support the children through other means instead of offering the underpants.
They demanded an apology from her office for displaying photos of her donating the underpants to the children.
They termed the move as embarrassment to the boy child.
'Was there no other way that the first lady could have helped the boys and mentor them? This is total disgrace to see youth boys displaying oversize underpants to our young boys," said women leader Joyce Nyokabi.
She termed the display of the photos that were posted on social media by the county communication team as indecent.
"What is the communication team teaching our young children? This was uncalled for and the office must carry out an apology," she said.
Woman MP Faith Gitau termed the move as a humiliation to the boy child.
"This is an embarrassment to the county and the government as a whole. The move has caused public acrimony from residents and we deem it wrong," she said.
Ms Betty Muchiri on social media called for an audit into the new development.
"Why are our funds being used to buy panties to our children? They should be used to build classrooms? She posed.
Another residents Mr Joseph Muraya said that the initiative was ill advised and the funds should have not been spent on the move.
But the first lady has since defended the move and said that it was part of fighting increasing cases of sexual harassment in schools.
"This is the school where sodomy cases were reported last month and our office thought it wise to fight such cases by donating underpants to the boys," she said.
She noted that her office would also continue supplying sanitary towels to girls all over the county.