Why first daughter Ngina Kenyatta held a closed-door meeting with Obama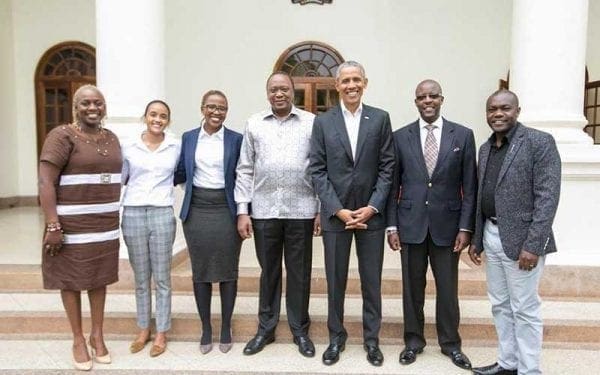 While a section of Kenyans were willing to lose their lives just to catch a glimpse of retired president Barack Obama during his two day visit to the country, Ngina Kenyatta had a walk in the park.
The first daughter was one of the few people who had the privilege to hold a closed-door meeting with former US president.
As the director of the Kenyatta Foundation, Ngina briefed Obama on the projects carried out by the charity organization that sponsors intelligent but disadvantaged Kenyan students through high school and until completion of their first degree.
Among those present during the meeting was the president himself who happens to be the NGO's patron.
"The Kenyatta Trust along with our Director, Ngina Kenyatta and our Patron H.E Hon. Uhuru Kenyatta had the pleasure of meeting and discussing our programs with former U.S President Barack Obama on his first day in Nairobi" a statement by the organization read.
The Kenyatta Trust was founded in 2010 and among the programs it offers include scholarships, mentorship, counseling, economic empowerment, community service and internships.
Why first daughter Ngina Kenyatta held a closed-door meeting with Obama