VIDEO: Waititu opposes demolitions, says rivers should be diverted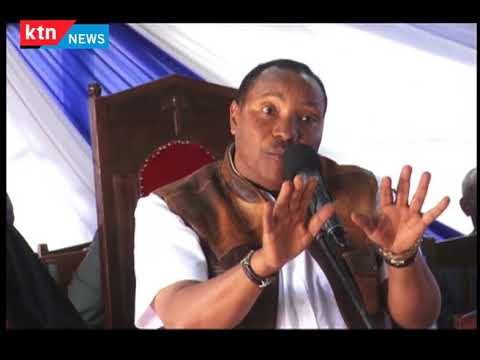 Kiambu Governor Ferdinand Waititu has opposed the on-going demolitions of buildings found to be erected on riparian land and waterways, saying that there are other alternative ways of addressing the problem.
Waititu who spoke on Sunday in Gikambura, Kikuyu constituency in the presence of Deputy President William Ruto said he was opposed to the ongoing demolitions and said the drastic action was not a solution to the problem.
He proposed that instead of demolishing the buildings, the landlords should be allowed to relocate the rivers.
"I cannot support demolition of buildings built on riparian reserve as some people are doing. Things should be looked in to and if your house is near the river, you should be told to foot the cost of relocating the river a little bit. Honestly speaking demolishing, the buildings is such a big loss to the owners," said Waititu.
The statement by Waititu contradicted that of President Uhuru Kenyatta who last week said that the demolition of properties built on riparian lands will go on.
"We will continue to demolish properties constructed on riparian lands, equally punish officials who made approvals for those properties," Uhuru said last week.
Uhuru added that the demolition exercise is part of cracking a whip on corruption and that the government is committed to ensuring that people can conduct clean business in the country.
The President's sentiments come even as the demolition of buildings in Nairobi continues.
The demolitions started on Monday last week as the National Environment Management Authority (Nema) set out to reclaim illegally occupied wetlands in the city.
Last week, several such buildings, including Southend Mall in Lang'ata,Ukay centre and Visa Oshwal Centre in Westland, and Java Restaurant and a petrol station in Kileleshwa were pulled down.
On Sunday, Uhuru who spoke when he attended a church service at Faith Evangelistic Ministry ( FEM)in Karen,Nairobi said he is ready to lose friends even as he promised to sustain war on corruption.
"Bishop…I have lost very many close friends. Some have been calling me asking why I was sitting and watching all this destruction going. I said it is difficult to stop not because we love to destroy but because we have to fight impunity," said the president.
He said for the country to succeed, impunity and forces that were preventing the country from realizing her dreams have to be fought.
Is diverting river a possibility?
Governor Waititu's plea to spare the buildings in the wave of demolition may be possible but not in Kenya.
A story by National Geographic lists 14 rivers across the world, that meandered the cities before meeting checkered fates.
According to the NA, most of these rivers (which were in USA and larger Europe) have since been extinct, as a result of an attempt to divert their courses.
Sunswick Creek is one of those rivers that beautified the streets of New York City, USA, before human activities rendered it extinct.
An excerpt of the NA says of Sunswick Creek: "Appearing on maps in the 1870s, Sunswick Creek was soon completely covered over. Now, it exists only as a meager flow through buried sewer-like pipes."
However, there are some that have successfully been diverted ground, albeit after swallowing huge investments. Park River in Hartford Connecticut in such a river.
NA says: "U.S. Army Corps of Engineers diverted the Park River beneath Hartford, Connecticut, in what was one of the largest and most expensive projects the Corps had tackled up to that point."
It was salvaged from the hands of careless surrounding residents, who used it as a dumping bin. Nairobi County would require huge amount of money, time and special expertise to honour Waititu's plea and save Nairobi river.
RUTO TAKES HIS FULL TEAM TO KIAMBU COUNTY & ATTENDS A CHURCH SERVICE AT PCEA MUSA GITAU CHURCH