DP William Ruto pulls a fast one on President Kenyatta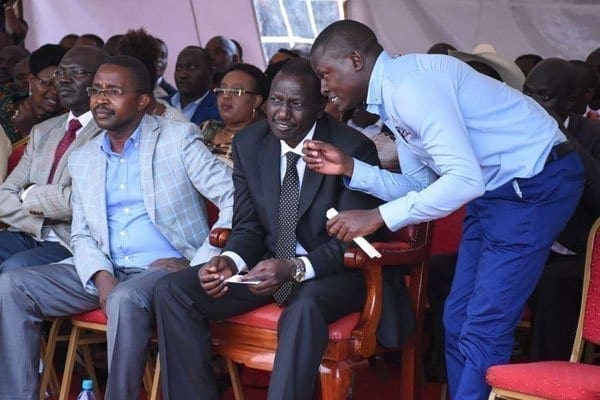 Deputy President William Ruto appears to be quietly working to displace President Uhuru Kenyatta as the political kingpin in central Kenya, winning over local leaders and dramatically expanding his influence, interviews show.
Mr Ruto planted the seeds of the alleged takeover during Jubilee nominations in the run up to the General Elections last year, and has in recent weeks been watering them using fundraisers, county meetings, and early campaigns, according to those who spoke to the Nation.
Those deemed lukewarm towards his chances in the region are being ostracised by his growing brigade on the ground and labelled as rebels within Jubilee Party.
On Sunday, without expounding, Jubilee Party vice-chairman David Murathe agreed that the DP had, through the strategy, made considerable progress in the vote-rich region that is critical to his 2022 State House bid.
UNFAIR DEMANDS
The admission came just a few days after Mr Murathe warned of what he said was a concerted effort to get those on President Kenyatta's side to almost always declare that they will back the DP's bid.
"There has not been a single time when the President said he will not support and campaign for the Deputy President, so we are finding it unfair that sections of our leaders want to divide our people into Uhuru and Ruto camps," Mr Murathe said in Kiambu County.
Although Mr Ruto has insisted that central Kenya owes him no political debt in 2022, utterances by his allies, and indeed his own frequent visits, have betrayed a man keen to either endear himself to the region on his own, or make enough friends to guarantee a favourable outcome.
As the political temperatures hot up, Mr Ruto is basking in the glory of a 180-degree turn of fortune from the narrative in April last year, when, at the height of agitation for party nominations in the region, senior politicians who lost accused him of being behind their woes, saying he wanted to ensure no leader from the region opposes him in 2022.
HIGH–OCTANE POLITICKING
Now, the seeds of that discord have turned out to be a boon to Mr Ruto, as the politicians he was accused of installing are now doing the leg work for him in the region.
Away from the high-octane politicking at fundraisers and development tours, those who lost in the primaries and went on to accuse the DP of edging them out are watching as their worst fears come to pass.
Among them is former Kiambu governor William Kabogo, who blamed Mr Ruto for his fall to Mr Ferdinand Waititu at the nominations last year. Mr Waititu is now seen as Mr Ruto's pointman in President Kenyatta's home county of Kiambu.
"I'm not being fought in the interests of Kiambu people, but in the interests of 2022," said Mr Kabogo last year. "I will face them head-on. I've made a similar stand before, when I said we will not give this person (Ruto) the seat just like that, and I'm saying it again. We will not support him unless we see development."
SONKO 'A RUTO PROJECT'
Nairobi politician Peter Kenneth, who was seeking to replace Mr Evans Kidero as the Nairobi governor, also claimed that Mr Ruto was to blame for his loss in the party's primaries to the eventual winner Mike Sonko.
"Sonko was assisted by a person who wants to cut us short," claimed Mr Kenneth at the time. "He is Ruto's project. Let's speak the truth."
In Murang'a, where Mr Ruto has landed the support of Governor Mwangi wa Iria, former Kigumo MP Jamleck Kamau disputed Mr Iria's primaries win and challenged it at the Political Parties Tribunal. The tribunal ordered a repeat but Mr Kamau declined to participate and dropped his bid.
On the other side of the mountain, in Meru, Trade and Industry Cabinet Secretary Peter Munya, then the Meru governor, opposed the formation of Jubilee Party at the tragic expense of the Party of National Unity just before the General Elections last year.
PRESIDENTIAL AMBITIONS
He complained that Mr Kiraitu Murungi, who felled him at the ballot to take over the mantle of the vote-rich county, was Mr Ruto's project to finish him politically and disrupt his 2022 Presidential ambitions.
"Those who want us out fear that our growing popularity in central Kenya will deter their presidential ambitions in 2022," lamented Mr Munya, in a jab at Mr Ruto, in June last year.
Beaten at the ballot by Mr Murungi, Mr Munya, like Kabogo in Kiambu and Kenneth in Nairobi, watched as the new man at the helm started cosying up to Mr Ruto.
A host of former politicians in the region, who have recently held a series of meetings with Mr Odinga, have since the primaries last year complained that the polls were manipulated to impose the crop of leaders that the Deputy President preferred.
Among them is former Mukurweini MP Kabando wa Kabando, who lost the primaries to Nairobi-based lawyer Gathiaka Kiai. He conceded defeat, but shortly afterwards reversed the decision "after reviewing what transpired during the nominations".
FRAUDULENT SYSTEM
He blamed his loss on "a fraudulent system unleashed to disenfranchise" voters and a "conspiracy" to nip his political career in the bud.
On Sunday, he refused to speculate on whether Mr Ruto is now the most influential politician in the region, ahead of President Kenyatta, but made a general statement condemning discussions on the 2022 presidential race.
"There is absolutely no reason to talk about Ruto and central now," said Mr Kabando. "How many times has he gone to the Coast, Western, or Ukambani? By 2022, an elephant could have given birth twice, and so that is a long time."
Kikuyu MP Kimani Ichung'wa, one of Mr Ruto's closest allies in the region, also dismissed debate on whether or not the DP was making inroads in the region.
"I look at these tours as espousing Jubilee's transformative agenda," said Mr Ichung'wa. "We are happy that President Kenyatta has a workaholic DP, and those who count the number of trips he makes have a political mind."
EMERGING TRENDS
Political analyst Phillip Njau said Mr Ruto's alleged interference at the Jubilee Party nominations stage last year, whether true or not, will continue to dominate the politics of the region, at least in the short-term. How it will influence the choices of the masses is still unclear, but at the leadership level, the trends have already emerged, and they are in Mr Ruto's favour.
Mr Njau observes that those who were ousted are likely to campaign against Mr Ruto's candidature, citing their recent meeting with Mr Odinga as an example of political realignments concealed as outings of the Building Bridges initiative by President Kenyatta and Mr Odinga.
In the meantime, Mr Ruto is not sitting pretty. Instead, he has been making numerous forays into the region, further muddying the waters for Mr Kenyatta and Mr Odinga.
For instance, in Nyeri, all the elected MPs, bar Nyeri Town MP Ngunjiri Wambugu, have been attending and supporting the DP's political drives. The same is evident in Murang'a, where all MPs in the county, except Kangema's Muturi Kigano, have been hobnobbing with the Deputy President.
POLITICAL GAME
So strategic has a relationship with Mr Ruto become that, in Kirinyaga County, Governor Anne Waiguru and Woman Representative Wangui Ngirici have been scuffling to curry favour with the DP.
In Tharaka-Nithi County, a fallout between Governor Muthomi Njuki and Senator Kithure Kindiki, both of whom have been associated with the Ruto camp, is indicative of the high-stakes political game at play.
This shake-up of the political atmosphere of a region hitherto known to pull in the same direction, and the fomenting of tensions between erstwhile competitors, is being seen as proof that Mr Ruto is playing his cards here quite well.
Mr Njau, the political analyst, agrees: "Political losers in Central Kenya blamed Ruto, and he has gone forward to engage and be close to the leaders he was accused of imposing to sell his candidature and agenda. In the court of public opinion, this confirms the allegations."
Since the General Elections in August last year, the Deputy President has visited Mt Kenya region more than 17 times.
He has also been hosting elected leaders from the region at his Karen residence in Nairobi, where he courts their support for his presidential bid and implores them to be united.
Those who have attended the meetings say Mr Ruto helps them get funding for their development projects, and that President Kenyatta is not as easily accessible as the DP.
Additional reporting by Patrick Lang'at and David Mwere
-nation.co.ke