Ipsos Poll Has Made Anne Waiguru A Political Guru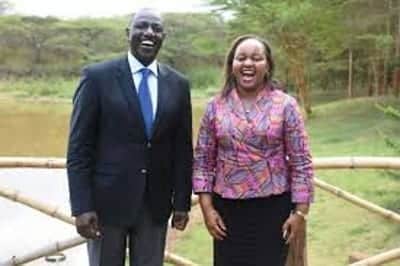 The recent Ipsos Synovate poll featured prominently in our weekend crew meeting. My friend Njoro, had asked me to come with two things: an empty pocket and an empty stomach and I obliged.
To his credit, I found a goat-leg roasting on a jiko, and the sweet aroma of ugali wafting from the kitchen. A bottle of something the church pastor would frown upon stood on the table, begging for attention.
Lunch done, plates cleared, Njoro joked that we should have invited Deputy President William Ruto to launch the opening of the whiskey bottle as a development project, a joke that was obviously in bad taste given the DP's staunch Christian background.
As you all know, alcohol loosens the tongue. And it was not long before we started talking politics, specifically the political ramifications of the August 22 Ipsos poll on the most corrupt leaders in the country that painted DP William Ruto and  Kirinyaga County Governor, Anne Mumbi Waiguru in bad light.
If the media, which is prone to spreading gossip and fake news is to be believed, both Ruto and Waiguru were not amused, and with good reason. They have not stolen anyone's goat.
No one has stepped forward to say 'Ruto grabbed my land, or Waiguru ate this'. DPP Noordin Haji is not, to the best of our knowledge, investigating them for corruption.
They have not been charged in a court of law. Both were cleared to run for office by the Independent Elections and Boundaries Commission, a body whose checks are so thorough that it is easier for a chicken thief to squeeze through the eye of a needle than for a corrupt individual to run for political office.
"We shall sue," they thundered, alluding to the fact that the poll was sponsored by their political enemies to muddy the waters seeing as they are the hottest ticket for State House in 2022 as we speak.
Suing, however, is a bad idea and a waste of good cash if you ask me because incredible as it sounds, both politicians stand to benefit from that warped poll.
Governor Anne Waiguru is, of course, clean as cotton, but she stands to be the chief beneficiary of the Ipsos opinion poll. Let me explain.
Kenyans idolise corrupt leaders, non-performers and thieves. These are the characters they worship and reward with positions of leadership. They treat leaders with clean records with disdain and punish them severely by sending them packing at 10am on Election Day.
In this country, a reputation of being primitively corrupt does not kill a politician; it raises his or her premium. Thus, with one stroke, labelling Waiguru as corrupt not only endeared her more to her support base but elevated her political stature countywide.
Retaining her Kirinyaga County seat will be a walk in the park should she elect to go for a second term.
And should DP Ruto name her as his running mate, the avalanche of votes she will bring to the table will be big enough to sink Tharaka Nithi County.
A presidential ticket featuring the duo will be hard to beat because much as they have been wrongfully accused of corruption, the perception that they have large sums of money hidden in their bedrooms will send voters singing circumcision songs.
I have heard it rumoured by people who watch too many movies that Governor Kivutha Kibwana of Makueni is presidential material. Nothing is more laughable! You don't get elected around here because of maendeleo.
We elect you when you demonstrate that you were clever enough to steal and get rich because that is what we all aspire to do. That's why we help our kids to steal national exams.
Ruto and Waiguru should embrace that "corrupt" tag and romp all the way to the House on the Hill.