Death Announcement For Professor David Mulumba Of Montclair NJ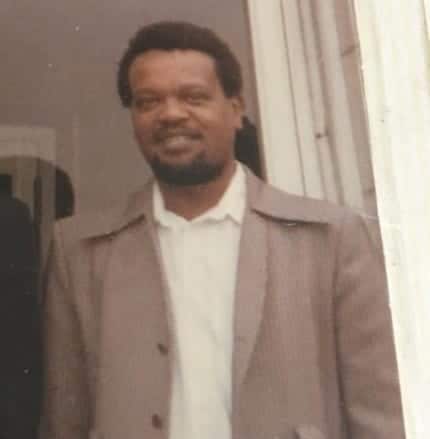 Professor David Makau Mulumba, 77, a long-time Montclair resident passed away in his home on Friday October 19/2018.
A wake will be held on Thursday, October 25 from 6pm to 8pm at Martin's Home For Service, 28 Elm St, Montclair, New Jersey. A Mass service will be held on Friday October 26, at 10:00 a.m., in Immaculate Conception Church, 30 North Fullerton Ave, Montclair, New Jersey. Burial to follow thereafter at Immaculate Conception Cemetery, Montclair, New Jersey
Mr. Mulumba was born to the late senior Chief Patrice Mulumba and late Rhoda & Luisa on May 3, 1941 in Kikoko, Kilungu Village, Machakos in Kenya.  He graduated from Kabaa High School in Machakos, Kenya.
Due to his love of English and his love of writing, he entered a nationwide essay contest and won. His prize was a trip to the United States of America and a full scholarship to Dartmouth University.  He graduated from Dartmouth in 1966 with a Bachelor's of Arts in History and earned a M.A. in World History from Northeastern University. From there he pursued his true passion, teaching.
He taught English and History in various High Schools across New England, New York, and New Jersey. During this time, he reunited with a beautiful young lady who also grew up in the same village in Kenya. On June 24, 1972, he married Syokwaa Mulumba (née Musau) and they had two children.
He continued to exercise his passion to educate by becoming a Professor of African and African American Studies at New Jersey City State University. He spent time as the Chair of the African American Studies Department, and continued to teach there until his retirement in 2016.
He loved history, geography, literature, and all forms of knowledge. He loved to cook, loved to debate current events, and was a raconteur of the first rate. He loved to tell stories of his childhood, of history in general, and most of all, he loved to spend time with his family.
He is predeceased by his wife of 32 years Syokwaa Mulumba, his siblings Benedict Kiilu Mulumba, Richard and Theresia Mulumba, Philomena Nzove, Theresia Ndindi, Rosalia Mukata, and Salome Kiama.
He is survived by his sons Kiilu and Kyalo Mulumba; Daughters in law Shelleye Bailey and Rebecca Mulumba; Brother to Margaret & late Mbithi, Francisca and kate Kangwana, Bernadette ,Ezekiel, Susan and Francis Nzioka, Matthew Mulumba; Maria and late Kikata, Emma; Justina, Juliana Muia, Michael Mutiso;  and Edward.  Son in-law to late Cosmas Musau and late Helena. Brother in law to Maria; Susan; Mwaka; Agnes; Raymond; late Peter; Dr Musau; Imelda; Redempta; John and Nduku.
He is grandfather to Zen, Isaac, and Asuna Mulumba. He is survived by many loving cousins, nieces and nephews carrying on his legacy in Kenya and the United States.
For any donations please send to Kyalo Mulumba at 1531 Van Housten Avenue, Clifton, NJ 07013.