Uhuru, Raila to receive international award for handshake deal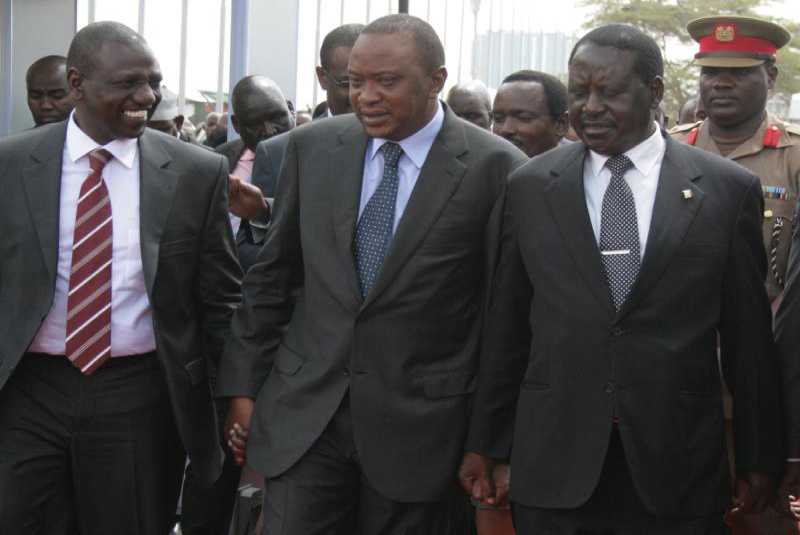 President Uhuru Kenyatta and former Prime Minister Raila Odinga are set to be honoured for their statesmanship and adherence to the principle of political tolerance.
This follows their March  9, 2018 'Handshake' which ended political acrimony and intolerance after the 2017 general election which had threatened to divide the country.
London Political Summit, the awarding entity has said that the duo are great men and have a long rich history behind them.  Both their parents were the founding fathers of Kenyan political and democratic history.
"It is a great privilege to identify with their latest leadership style which infers immense political maturity," reads part of statement sent to newsrooms.
The award will take place today at Hilton Park Lane Hotel,London. It is not clear whether the duo will personally attend to receive the awards or will send their representatives.
Away from being awarded, London Political Summit has created a special award known as "RailaUhuru African Peace Accord Award" which will be given annually to any African leader who embraces peace, values democracy and exhibits high level of political maturity and tolerance.
In a letter addressed to Raila, London Summit Director Godson Azu said that the Opposition chief was an esteemed political leader who has played a huge role in shaping political thoughts and ideas in modern political history in Africa and around the world.
"It would be a great pleasure and honour to have you as our Guest of Honour and award recipient at the summit and awards dinner reception," reads part of the letter sent to Raila.
We celebrate you as a key outstanding personality who has embedded peace and cooperation, safe and progressive governance, in one of Africa's developing democracy, and among nations around the world."
The awardees will go through strict criteria and vetting. Some of the criteria used will be political tolerance, people-oriented leadership, political accountability and political morality among other vital issues in governance.
Others nominated for London Political Summit are: Uganda parliament Speaker Dr Rebecca Alitwala Kadaga MP, UK MP Parliament Diane Abbott, Vice Chancellor, London Metropolitan University Prof. John Raftery and Former Secretary General of the Commonwealth Ambassador Dr Josephine Ojiambo.
The summit will be looking at "the narrow and broad concepts of political will to act, and the public will power to react, in the very context of an individual leader, or collective leadership actions in critical political decision-making in governance".
On list  are Ambassador Mmasekgoa Masire-Mwamba who served two terms from 2008 to 2014 as Deputy Secretary-General for the Commonwealth as well.
"The paradigm shift in political thought and action around the world in most recent years, has resonated with the idea that nations should govern themselves, free from external interference that defies super-globalisation and current burning issues," said Azu.
The issues include climate change, disarmament, genetic engineering, artificial intelligence, terrorism, national security, and sovereignty, which requires the attention of both domestic and international politics