ODM MPs back Raila – Peter Kenneth ticket for 2022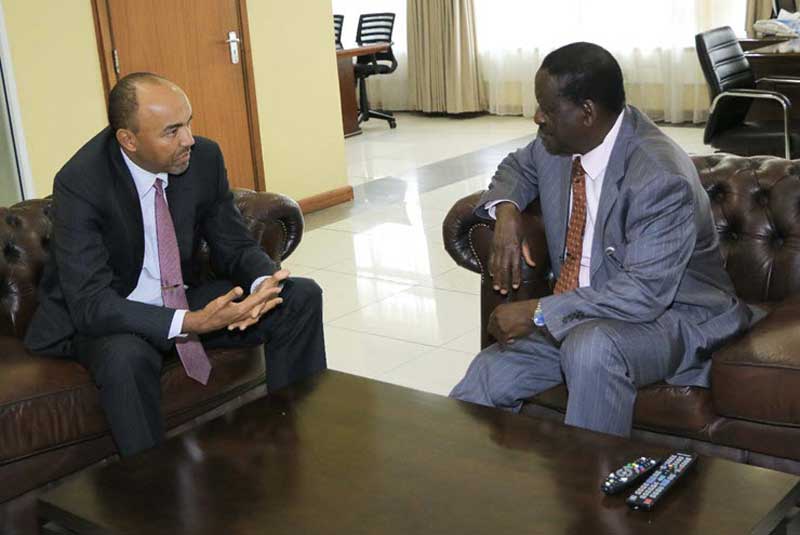 Political realignments are shaping up with western Kenya leaders allied to ODM forging for an alliance between their party leader Raila Odinga and Kenya National Congress (KNC) leader Peter Kenneth ahead of 2022.
A section of ODM legislators reached out to Kenneth saying they make a better team with Raila to succeed President Uhuru Kenyatta in the next polls.
The appearance of Kenneth in a funds drive organized by one of Raila's loyalist MP Caleb Amisi last Saturday in Saboti constituency, Trans Nzoia county is setting stage for a political duel for the voter rich-Western bloc, between Raila and Deputy President (DP) William Ruto who has also been making overtures.
Ruto has made a series of visits to Counties in Western Kenya, Raila's perceived political stronghold.
Kakamega Senator Cleophas Malala led ODM MPs to lure Kenneth to their side signalling a possible political deal between Raila and Kenneth.
"We are asking our brother Kenneth to team up with our party leader Raila Odinga in the succession bid. It is a winning formula," Malala told Kenneth who was the chief guest in the event to support an education bursary for bright and needy students in Saboti constituency.
Kenneth has been in the fore front to support the handshake between Raila and President Uhuru Kenyatta.
Other ODM MPs Anthony Olouch (Mathare), Babu Owino (Embakasi East), Samuel Atandi (Alego Usonga) Caleb Amisi (Saboti) and ODM Secretary General Edwin Sifuna urged the KNC leader to join Raila in the new political deal.
"We know you are committed like Raila to salvage Kenyans from poverty. Team up with him in the 2022 succession quest and you never know what is on the way for you," said Olouch.
Amisi said Raila is ready to work with right minded leaders like Kenneth to improve the lives of Kenyans.
"Kenneth is the right person to work with Raila. You have in the past demonstrated capability to transform the economy and we want you to be part of Raila's government in 2022," Amisi told Kenneth.
The ODM lawmakers insisted that Raila's name will be on the ballot come 2022 presidential elections and told off those wanting him to quit politics.
The ODM criticized jubilee leaders who are agitating for Raila's exit arguing that their party leader was still strong and energetic to lead the country.
"Baba (Raila) is strong and energetic and ready to serve Kenyans in the presidency. He is not old and I pity those calling on him to quit politics," said Olouch.
Atandi said Kenya require reform minded leader to occupy power and that Raila is the best bet and asked Kenneth to work with the former premier to help the country move forwards.
"Time has come for Kenyans to go for a reform minded leader and Raila is the best bet and we are asking our brother Kenneth to join Raila," said Atandi.
The MPs warned Kenyans against supporting leaders with questionable track record to power arguing that the country need honest and non-corrupt leaders.
"As ODM We don't have business with corrupt individuals to lead this country. Kenyans should not give leaders with questionable track records to get to power," said Malala.
Owino said the country will be safe hands when Kenyans elect leaders not linked to corruption.
"We don't want our country to be auctioned by greedy individuals. We must ensure that only trusted leaders are in power," said Owino
By Osinde Obare