Kamanda Stunned: Sonko's Menopause Diss Leaves Tongues Wagging
Mike Sonko distributing relief food in Turkana
Nairobi Governor Mike Sonko, on Wednesday, was not mincing his words as he referred to nominated Jubilee MP Maina Kamanda's way of addressing issues as menopause politics.
Responding to the legislator's critic of his recent actions in Turkana where he had gone to distribute relief food, Sonko defended his actions explaining that he was the good deeds ambassador.
Kamanda, in a post on Tuesday, faulted the governor for traveling to Turkana for PR purposes while the county operations were not right.
"Dear governor, after going to Turkana with your complete photograph team, please wake up and serve Nairobians. Streets are still dirty, hawkers being harassed, drainage pathetic and workers being fired left right like garbage," he posted on his social media.
In a rejoinder, Sonko stated that his presence in Turkana was justified as the good deeds ambassador refuting allegations that the exercise was to gain political mileage.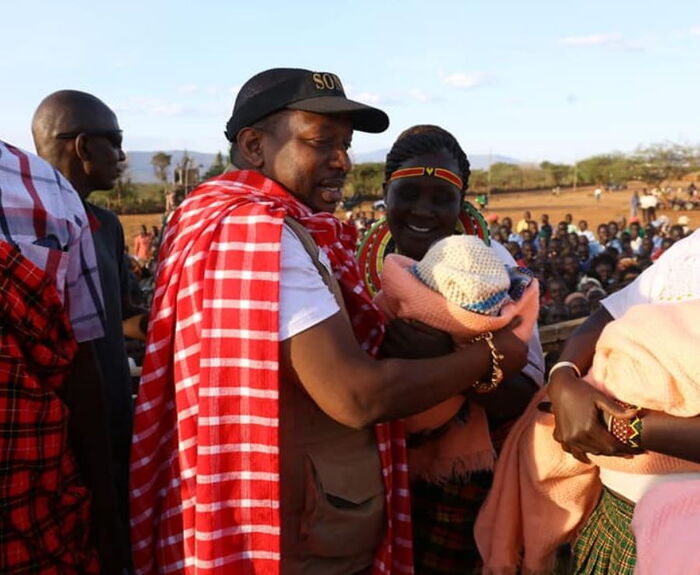 Referring to Kamanda as an old man, the county head further stated, "It's not my first time to stand with the needy and I will not stop it because of your dirty mouth and menopause politics which has been overtaken by events.
"Inaonekana wewe Mzee unazeeka vibaya (It looks like you are aging) respect others, respect your age the same way we respect you."
His post elicited mixed reactions online, with many citing that the menopause comment was uncalled for.
"I wanted to clap for you for such a sober response, only to come across menopause politics at the end," one user noted.
Some sought to clarify that men did not undergo menopause, instead referring to erectile dysfunction.
"So why use the word menopause to insult someone you would have used erectile dysfunction instead," another stated.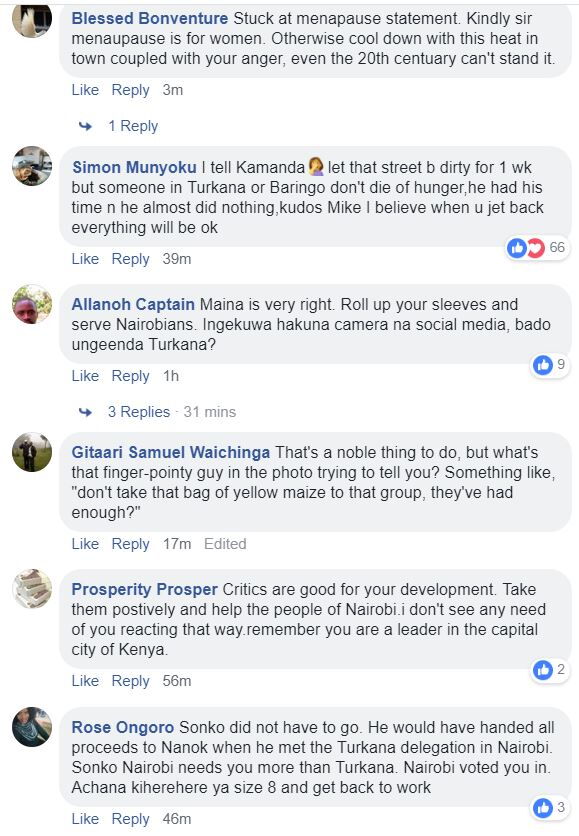 Others turned the tables on Kamanda asking what he did to help those affected by famine in Turkana.
"What has he (Kamanda) done to help those affected with Drought in Turkana? If he thinks Nairobi is dirty, He should have taken part in cleaning the city since u were away for a noble gesture," a netizen commented.
A section of Kenyans was of the opinion that Sonko should embark on sorting out city issues especially the drainage before the commencement of the rain season.
"Just finish up and bring your ego and show off back to Nairobi, when back, clear the drainage rain is almost here," one user advised.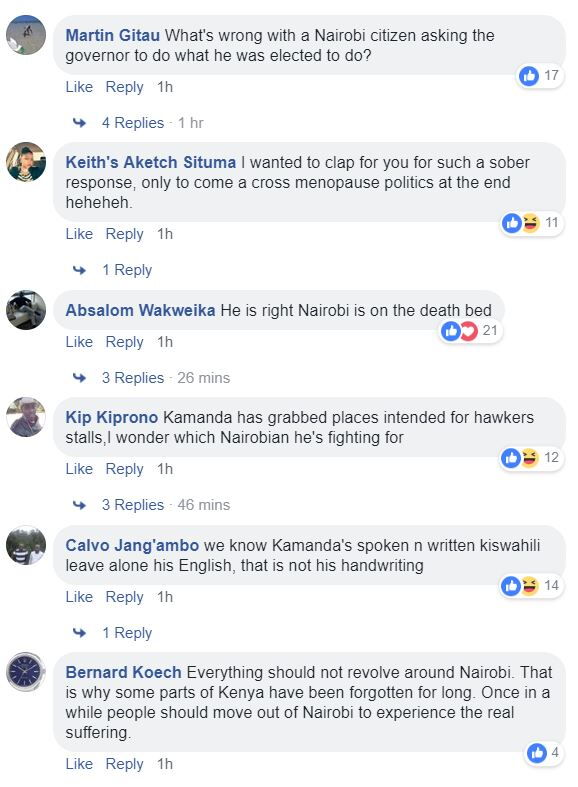 On his part, Sonko revealed that his administration was doing their best to ensure the streets are clean among other projects.
"We are doing around 9 markets which are over 80 percent complete including the multi-storeyed Mwariro hawkers market in Kariakor near CBD putting in consideration Nairobi is ranked as an international city, we must control our hawkers from being all over the CBD and finally the issue of firing staff, let them do the right thing, any staff who engages in corruption and laziness will be fired," he stated.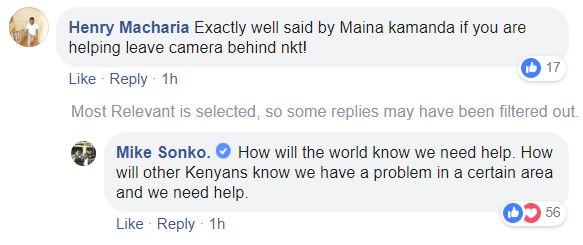 By MICHAEL MUSYOKA