Why I'll Work With Ruto Despite Graft Allegations – New US Envoy
US Ambassador Kyle McCarter with DP William Ruto
New US Ambassador Kyle McCarter has indicated that he will continue working closely with DP William Ruto despite the damning graft allegations leveled against him.
McCarter had on Tuesday addressed a Press Clubmeeting organized by Kenya Editors Guild and graced by DPP  Noordin Haji.
"A country without graft is able to use its resources to benefit all the people, not just a few," the envoy noted.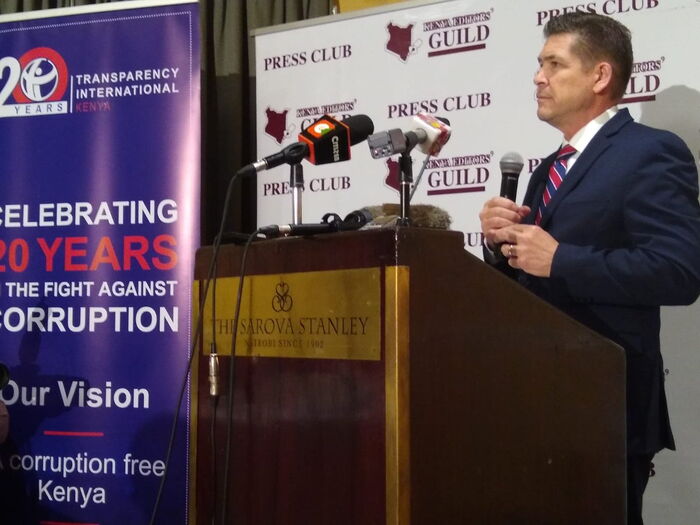 Following the remark which likely indicated that he would likely not tolerate graft, a netizen by the name Dan Kodondi questioned why he was associating with the DP who has been adversely mentioned in graft debate.
"But Bwana Ambassador, Last time I saw you with Dr Arap Ruto who is the high priest of graft in kenya, such collaboration makes us question your integrity," Kodondi opined.
"I will work with all stakeholders in order to achieve peace, safety, and prosperity for both USA and Kenya. DP Ruto has the ability and position to deliver this.
"Besides if I only worked with perfect people I would be very lonely, staying at home everyday with my imperfect self," Ambassador McCarter quipped.
Weighing into the debate, another tweep Vitalis Omboyi Makhotsa indicated that it would be prejudicial to condemn the DP through the court of public opinion.
"If DP Ruto's critics have any evidence linking him to corruption, let them take it to DPP or proceed to court," remarked Makhotsa.
During an earlier meeting in the day with the envoy, the DP had stated, "Kenya and the US are engaged to bolster trade ties and explore new opportunities to advance commerce, which will be mutually beneficial.
"This is in line with Washington's desire to deepen collaboration in manufacturing, renewable energy, health and our push to actualise the Big 4 Agenda," Ruto concluded.
By PAUL WANJAMA