VIDEO: I wondered why I was the only light skinned in our family — Mevies Imbaya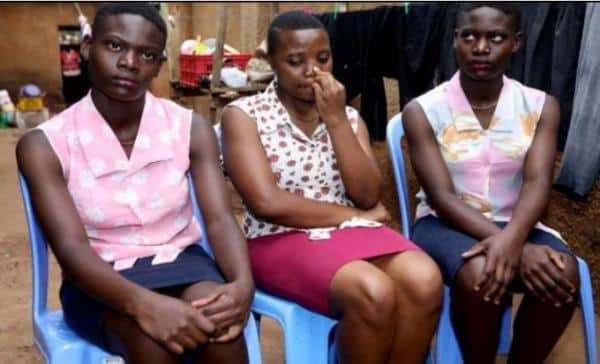 Melon Lutenyo, Sharon Mathias and Mevies Imbaya have hit the headlines in recent days following a puzzling discovery that two of them might be identical twins who were separated at birth.
Sharon and Melon have a striking resemblance and are dark in complexion while Mevies is light and shorter than the two.​
Interestingly, Mevies and Melon grew up together in Kakamega and believed they were sisters before Sharon – who lived in Nairobi- came into the picture.
Speaking during an interview on KTN News on Thursday, Mevies revealed that at some point she wondered why she looked 'different' and asked her mum Rosemary Onyango about it.
"I am the only brown girl in this family but my mum told me she used to be light when she was young.
"I then asked her whether I would become dark with age…" said Mevies.
She added that despite meeting Sharon nothing has changed and they bond well.
Asked whether she had fears that she was not living with her parents, Mevies stated that she had thought about it but will love both her 'mum' and Sharon's 'mum' who is in Nairobi.
Sharon and Melon, on the other hand, shed tears as they narrated how they met each other and noted that they even have similar career aspirations.
"I want to be a teacher, a journalist and a motivational speaker, just like Melon. We even had the same grade in school," said Melon.
The three added that if DNA tests prove that they are sisters, they would like to live together under one roof. Here is the video: 
By Vincent Kejitan