VIDEO: Bishop Robert Wafula sobs as he blesses Apostle Ng'ang'a in viral video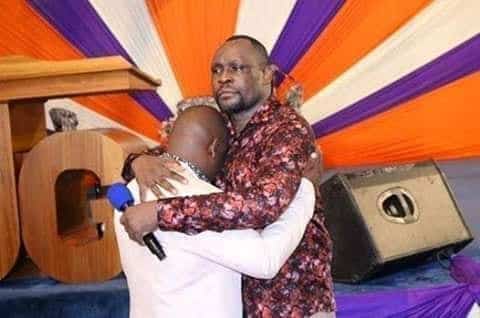 For Bishop Robert Wafula, it has been a fulfilling journey of 20 years with the controversial Apostle James Ng'ang'a, save for the latest abuse directed to him and his colleagues by the apostle.
Before his resignation, Wafula was the Bishop of Coast region's Neno Evangelism Church.​
According to Wafula, the two-decades-long period of working together as fishers of men, demons casters and spiritual leaders have not only been a spiritual one but also a classical case of rags to riches.
Bishop Wafula, who was a security guard at the time he met Apostle Ng'ang'a, admits that were it not for the apostle he could never have been a religious titan of no mean repute he is today.
In a viral video shared online by Thika Town Today-3T, an emotional Wafula breaks into tears as he recounts how he was made a man he never envisaged he would be.
In his pastoral mood the bishop, somewhat giving his farewell speech, though in tears, pronounce blessing and appreciation to Ng'ang'a, whom he refers to "daddy" and "father" throughout his preaching, as he reveals to the congregation his long journey to where he is today.
Bishop Robert Wafula sobs
"Your God has made me become what I am now. Let him shower you with mercy and blessings. Since I started tagging along with you, I have known how to walk and speak. Let God bless you," he says.
As congregation continue to pay attention to their bishop, Wafula continues to preach appreciation to Apostle Ng'ang'a and swears never to forget him for opening a new chapter and the door of his, now, glamorous life.
"You will remain a great treasure in my heart. You have taught me how to fight evil spirits. I was not born this way. You took me in and opened your doors for me to come and stay with you," preaches Wafula.
His appreciation to his church and Apostle Ng'ang'a came at time when a viral video involving the controversial apostle showed the founder of the Neno Evangelism hurling insults to his bishops for disrespecting his wife.
The bishop was heard saying he had gotten them from dust but they have refused to show respect to his church warning that he will close all his church branches which he called "kiosks".
Here is the Video of Bishop Wafula blessing Apostle Ng'ang'a: