Murdered Catholic priest's lover confesses-He was my lover for 6 years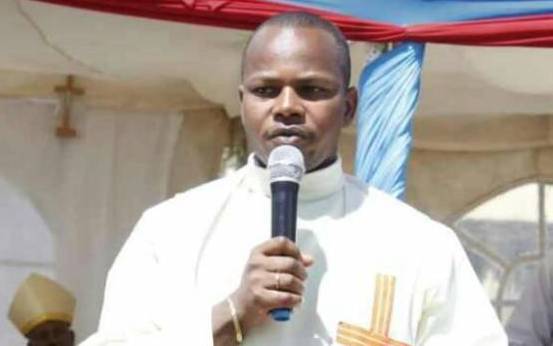 Murdered Catholic priest's lover confesses: A woman who had gone out partying with a Catholic priest before he was murdered has claimed that they had been in a relationship for the last six years.
Detectives say the 25-year-old woman, who worked in a guest house in Nkubu town, had been drinking with Eutychus Murangiri before he was stabbed at around 1.45am on Tuesday.
Fr Murangiri, 32, was a Diocesan priest who had served for one year after his ordination as deacon at the St Pius Seminary, Nkubu, in June last year.In December, he was ordained as a priest and posted to Limbine Parish in Tigania West.Meru Catholic Diocese spokesman Oreste Murimi said Murangiri would be buried on Monday at Mujwa Catholic Cemetery.
In her statement, the woman told detectives she started dating Murangiri in 2013 when she was still in college in Embu.She said they routinely met in Meru town on Mondays, which was the priest's official day off from work.
The priest would drive the 20km from Limbine in his Toyota Carmi while the woman would use public transport from Nkubu and travel 15km for their meeting at a restaurant-cum-guest house.The woman also told detectives she was dating a teacher, who works in Kajiado. She said she was five-months pregnant with the teacher's child.
Male friend
On Monday, the woman was picked up by the priest in Meru town and they drove to a hotel in Makutano for lunch. A mutual male friend later joined them for drinks.This friend was unemployed and Murangiri was picking up the tab.According to police, the woman said at about midnight she left the two men and went to the room booked for her and the priest.
The friend had been booked in a separate room."She said she was tired, excused herself and went to the room. The two men were left drinking," said our police source.The woman told police she was later woken up by a manager who told her the priest had been stabbed.According to reports, the priest and his friend had left the night club and walked about 100 metres to the Meru-Maua junction to buy miraa before they parted ways.
Walked back
It is believed that the priest met his killers when he walked back to his car, which he intended to park closer to the guest house.A guard at the club told police the priest, while bleeding, walked from the direction where his car was parked before he collapsed near the door.
He added that the priest's friend rushed to the club after the attack.Sources also said that early last year, while he was a seminarian at Mitinguu Parish, Murangiri had been attacked in Chuka town and his motorcycle and personal effects stolen. He was not harmed in the Chuka attack.