K24 Anchor Battling Cancer,Travelling to India for Treatment

K24 Anchor Battling Cancer,Travelling to India for Treatment: Kenyan journalists, on Wednesday, took to social media to stand with one of their own, who is battling cancer.
Anjlee Gadvi, a K24 anchor, on Tuesday, shared a moving video where she was explaining to her daughter, 5, why she would be travelling to India for two weeks for treatment.
In the video seen by Kenyans.co.ke, amid tears, her little girl begs her mum to seek treatment at Agha Khan but Ms Gadvi reassuringly explained why seeking treatment in India was better.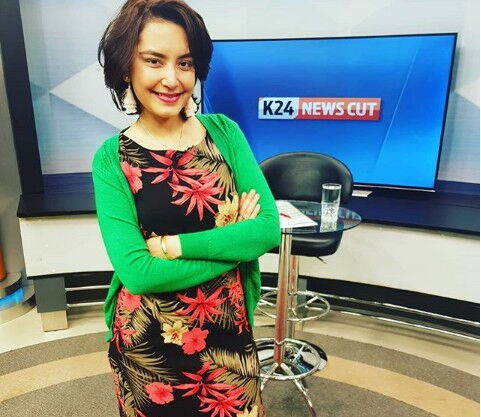 Various journalists took to their timelines commending Anjlee for her bold move, in the process sharing uplifting messages.
Former BBC Africa Business Editor, Larry Madowo, wished her all the best and applauded her action.
"You're so brave for sharing this, and for having the courage to battle publicly. I know you're incredibly strong and will beat cancer. All the best," he posted.
KTN News anchor, Linda Ogutu, also stood by her saying," I don't even know what to say. It must be very hard for her and that is why you have to fight. All the best with your treatment honey.
"May you get better and go jump at Two Rivers. You, my dear, are in my prayers," she added.
Another K24 anchor, Mwanaisha Chidzuga admitted," Watched this and you brought tears to my eyes. You will be okay Inshallah and that hug right there, keep on giving it to the little ones."
"Sometimes maybe that's all they need to keep going when words don't make sense. Stay strong never give up no matter what," she urged.
"You are my hero! More favour and blessings to you! Praying for your quick and full recovery," KTN reporter Timothy Otieno declared.
Eunice Kilonzo, a Daily Nation columnist, encouraged, " Hey Anjlee you are a strong strong mother and woman. I have cried listening to you explain to your daughter why you have to leave and that you'll come back stronger. You (plus your family) are in our prayers. Much love and warm hugs."
"Babe that jumping at two rivers count me in too. It breaks my heart to see her cry but I smile because I know this is the tail end and I have never seen you much stronger. I love you so much and I look forward to seeing you soon," wrote Deputy Director Communications in the President's Delivery Unit, Mumbi Warui.
BBC Business presenter of Money Daily show, Maya Hayakawa, also expressed her pride in Anjlee, in a tweet, after her emotional video.
"I'm so proud of you Anjlee," she disclosed.
By HARMON ELLEN
Source-kenyans.co.ke