Ugandan President Yoweri Museveni says Migingo is in Kenya
Ugandan President Yoweri Museveni says Migingo is in Kenya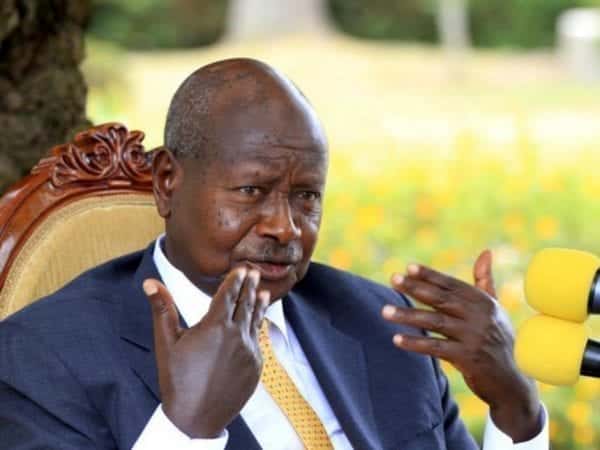 Wednesday, 22nd April, 2009
PRESIDENT Yoweri Museveni yesterday said Migingo Island is in Kenya, while the water at its western shore is Ugandan territory.
Speaking at the launch of the Smart Partnership national dialogue at Hotel Africana, Kampala, the President noted that the border demarcations on British documents show that the island is in Kenya while the western shore is in Uganda.
To solve the increasingly heated discussion over the ownership of the tiny island in Lake Victoria, both countries earlier this month agreed to set up a technical team to demarcate the border.
They also agreed that Ugandan Police officers would provide security on the island as an interim measure.
"We need dialogue to get clear solutions to this island in the lake that has excited people," Museveni remarked yesterday.
"Colonial borders were made carelessly by Europeans. It is up to us to sort it out not by changing boundaries but transcending them."
He said there was need for dialogue to achieve regional integration and find solutions to border disputes such as Migingo.
At the national level, politicians had failed to communicate government plans on how to transform the economy to the implementers, the bureaucrats, he noted.
"In Uganda we need more dialogue between the reformers and the bureaucrats. These civil servants must understand that society must be transformed through stimuli like ease of doing business by availing power, transport and land."
The national dialogue is a precursor to the Smart Partnership international dialogue that will be held from July 26 to 28 at the Commonwealth Resort Munyonyo.
Smart Partnership is a meeting of African, Asian, European and Caribbean government and business leaders about trade and development issues.
Museveni said the idea of Smart Partnership was beneficial because was a win-win formula.
The president also called for dialogue between developing countries and developed countries for solutions to the global economic recession.
"We have two groups of people, over-consumers in the West and under-consumers in developing countries. Advanced economies should get in dialogue with Africa on how idle consumption can be tapped."
Museveni noted that while the recession would impact on Uganda in the form of reduced export earnings and remittances from Ugandans abroad, the country would not be badly hit.
"We shall have problems as far as our relations with developed countries are concerned. But internally, is our consumption slackening in Uganda? Are our regional exports affected?" he asked.
Source-New Vision
Uganda Govt to pay allowances to elderly
The Government is planning a monthly facilitation to the elderly persons who are not catered for under the pension scheme and NSSF.
"The automatic cash transfer scheme will target people of 70 years and above throughout the country. These elders will receive about sh20,000 per month, the labour state minister Emmanuel Otaala said.
"There are old people that have greatly contributed to this country's development through taxes and other areas, but are not getting pension or other benefits (like in informal private sector workers under NSSF)," Otaala said, adding "Government will make sure that those without any such support are facilitated monthly."
Otaala explained that the scheme was initially supposed to cover six districts, but has of late been revised to cut across the whole country. But it is still in its preliminary stages of being drafted, he said, and will be tabled to Cabinet soon.
The Government is 'picking a leaf' from Lesotho and South Africa. The three ministers Syda Bbumba (finance minister), Otaala, and the deceased Omwony Ojok; were in these countries to study the scheme, last year. Otaala said it has yielded in these countries, and "can easily work out here (in Uganda)."
Uganda has around 1.5 million elderly people with 4.6% above the age of 60, according to the 2006 report on the last census. These have no special law to protect and provide for them in spite of the fact that they started paying taxes to the Government five decades ago.
However, state minister for the elderly and the disabled, Sulaiman Madada, says although there is no special law for them as of now, Government takes great attention and recognition of the aged people.
Herbert Baryayebwa, the commissioner for disability and the elderly in the gender ministry, says the Government realised that, unlike other vulnerable groups like orphans, women and disabled persons, the elderly have not benefited from government programmes.
He says with financial support from the Department For International Development, the ministry conducted a research to find out the specific needs of the elderly. The findings are now being used to design interventions, taking into account the gender dimensions.
The research showed that older people are disgruntled, saying they have been excluded from government programmes, isolated by members of their families, denied access to medical care and lack income.
Media reports show that many elderly are neglected, abused, discriminated upon and ill-treated in the hospitals, taxis, buses and villages. Many have lost their children to war and AIDS and cannot rely on traditional family support which collapsed with increased market economy. Instead, many of them are caring for orphaned grandchildren. They lack opportunities for any active participation and their minds deteriorate as a result. They can not access essential drugs and free medical services. About 50% of Ugandan orphans, according to the 2005 Chronic Poverty Report, are under the care of grandparents.
---
Source-New Vision
---
EMC workers donate Computers for Kenya
By David Riley/Daily News staff
Software engineer June Odongo founded the ZOO Memorial Foundation. EMC employees donate their used PCs which are refurbished and sent to students in rural Kenya. Odongo is pictured here at EMC's Soutbborough facility.
SOUTHBOROUGH — Dozens of computers that otherwise might have collected dust in closets or landfills are bound for rural African classrooms and community centers, thanks to a Kenyan-born software engineer at EMC Corp.
Workers at the data storage giant's offices throughout MetroWest donated 100 used, but still-working PCs yesterday in a charity drive planned by employee June Odongo to advance computer literacy in rural Kenya.
"There's just been a lot of giving, more giving than anyone would even dare to ask," said Odongo, who works in EMC's Southborough office.
The effort was the first for a new nonprofit that Odongo founded last summer, named for her late father. The Zephaniah Owidi Odongo (ZOO) Memorial Foundation will focus on scholarships, computer literacy and using technology to advance community development, she said.
EMC employees are volunteering to test and install new software on the computers, and the company itself is paying to ship the PCs across the Atlantic Ocean to Nairobi, Kenya's capital.
From there, African EMC employees and ZOO Foundation friends will give the computers to the Nyakoko and Ombeyi secondary schools and Masogo Community Center outside Lake Victoria, and the Arise and Shine Resource Center outside Nairobi, Odongo said. Her father attended one of the schools, she said.
More than 1,000 people will benefit from the PCs.
Odongo said she is motivated by technological disparities she has seen between the U.S. and Kenya, and by her father, who was an electrical engineer and contributed to her native country in his own way.
"I feel obligated to contribute to science and technology for young people," Odongo said. "I come from a country where having a home computer is a privilege. Most people don't have that. There's a very, very big difference I think in terms of learning, contributing to the work force of the country, and even just access to information."
Employees from EMC offices in Southborough, Hopkinton, Westborough and Franklin offices contributed, dropping off computers at the company's Southborough warehouse, said EMC spokesman Patrick Cooley.
Odongo, who has worked for EMC more than three years, said she has worked on small charitable projects in the past, but nothing of this scale. She had the idea after the company held a recycling drive for old computers last summer.
"I thought, there's no good reason to be recycling them if we could put them into use," she said.
The company was interested and began coordinating plans with its Europe, Middle East and Africa division. The drive also required planning with the company's offices in South Africa and Kenya.
Donation requests first went out to employees in November. Odongo said the company requested working computers no more than 9 years old.
Odongo, who lives in Lowell, credited Renata Horakova in EMC's community involvement department for much of the coordination, and said other companies have chipped in free of charge.
"It's been a global EMC event," she said.
She hopes to get the computers to Kenya around May. Given the recession, Odongo said "we feel very blessed" to get so many donations.
"It was overwhelming," she said.
Source-
The MetroWest Daily News
---
MORE BREAKING NEWS

–

CLICK HERE
FRONT PAGE HEADLINE NEWS

–

CLICK HERE