Kenyan woman Grace Haukwa dancing to fame in US
Kenyan woman Grace Haukwa dancing to fame in US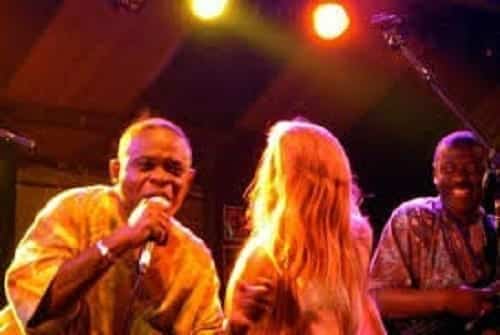 A Kenyan woman has found fame in the US, thanks to her artistic prowess as a dancer and her work as a music manager.
Today, Grace Haukwa counts among her close associates Congolese superstars Awilo Longomba and Samba Mapangala.
A very talented dancer, who never shies away from any opportunity to do a jig and make her fans happy, Grace is also an acquaintance of top African-American rapper 50 Cent, with whom she has done a number of projects, including charity.
Some time ago, she also served as the manager of the talented techno-soukous star Awilo.
With Samba, Grace has done some recordings in Kiswahili and Lingala, in which she features mainly as a dancer.
Samba, who made his name in Kenya as the leader of Nairobi-based Congolese bands Les Kinois and later Virunga, has a number of big songs, including "Maisha ni Matamu", which was recorded in the streets of New York.
Grace is among the dancers who appear on the video clip of that new song. The dancer wears many other hats, as she continues to climb the ladder to stardom.
She is also a model and an entrepreneur, and was early this year honoured as the first African to win the Guardian Award in the US.
With this new feat, Grace has joined who-is-who in America's arts, music and sports scene. She told the Saturday Nation in a telephone interview last week that she received the award for her excellent leadership in international community unity, entertainment and social development at the 2012 Desert Hollywood Honours.
Her interests are in TV and film, sports, fashion, dance and music.
The Desert Hollywood Honours was founded by Dre Banks to connect clients with the digital revolution that involves the fusion of the visual arts into the niche market.
For her part, Grace is the founder and chief executive of Nabtry International Cultural Dance group, which was named the Best Dance Group of the Year in the US in 2011.
It was also nominated in 2011 and this year as the Most Outstanding Dance Group at the International Reggae And World Music Awards a ceremony in Chicago.
Grace's group also became the first ever African dance troupe to get nominated or win such prestigious awards.
Early this month, she was invited for the BET Music Awards in Los Angeles, where she was joined by some of her celebrity friends.
Speaking to Saturday Nation, Grace hinted of plans to visit with her group in the near future.
"My fans back home should soon expect me," she said.
After the BET Awards ceremony, she flew to Chicago to attend the 31st edition of International Reggae And World Music where she got a nomination the Most Outstanding Dance Group, with four other groups.
But hers became the only African dance group in the history of the awards to be nominated twice in a row.
Grace is not only the founder of the group, she does all the choreography, makes all her dance group costumes and is comfortable working in six languages, including her Kinyala dialect of Luhya, Kiswahili, Lingala and French, which she has mastered while working with the artistes and friends from Congo and other countries.
In a nutshell, her group is the one-stop to all the needs in music and entertainment. Her group provides professionally talented dancers, models and music video models.
This talented Kenyan woman is planning to go on a worldwide tour with her Nabtry dance group to help raise awareness for Foundation Of Abandoned, Disabled African Children (FOADAC).
Source:nation.co.ke
Kenyan woman Grace Haukwa dancing to fame in US