Attempt to steal Mutula's half a million casket thwarted
Attempt to steal Mutula's half a million casket thwarted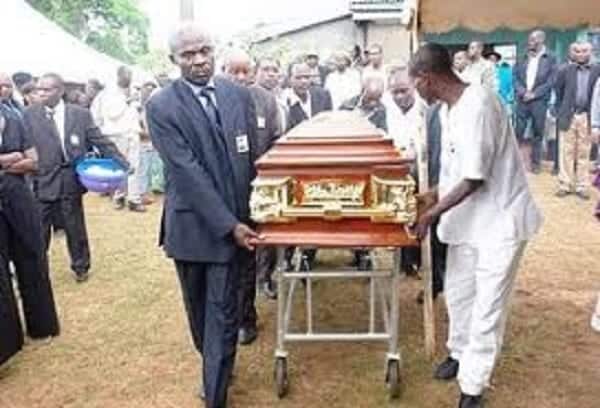 Makueni, Kenya: Police in Mbooni have been deployed to the rural home of the departed Makueni Senator Mutula Kilonzo following an attempt by suspected thugs to break into his grave.
Mbooni East OCPD James Baraza confirmed they had received information that some people had planned to steal the casket containing the remains of the late Mutula.
The incident reportedly happened on Friday night though relatives declined to discuss the matter referring reporters to the police.
The police boss said the suspects did not accomplish their mission as employees and neighbours raised the alarm forcing them to flee.
The number of the suspected raiders could not be immediately established but the OCPD said investigations have been launched.
"We received intelligence reports that there were some people planning to raid the Woyani home of the late Mutula and moved with speed to tackle the matter," said Baraza.
He however said no one was found at the scene prompting him to deploy officers for any eventuality.
Mbooni area was Sunday a buzz with the news of the attempted robbery of the casket whose price was estimated at nearly half a million shillings.
When the media visited the home, there was tight security at the home and its environs.
The OCPD said any one linked to the attempted robbery of the expensive casket will be arrested and prosecuted.
The late Mutula passed on at his Kwa Kyelu ranch in Maanzoni, Machakos County on April 27 and his death still remains a mystery.
The departed Makueni Senator remains were laid to rest at his Mbooni rural home on May 9, 2013.
The Senate Speaker Ekwe Ethuro has already issued writs declaring the seat vacant paving the way for IEBC to announce the election period.
The campaigns to replace the late Mutula are yet to kick off but all indication area clear that possible candidates are positioning themselves for the race.
Among the people mentioned as possible candidates include her daughter lawyer Kethi Kilonzo, former MPs Philip Kaloki, Gideon Ndambuki, John Harun Mwau, Peter Kiilu and former PC Wilfred Ndolo.
Source:standardmedia.co.ke
Attempt to steal Mutula's half a million casket thwarted