Jomo's funeral was planned 10 years before his death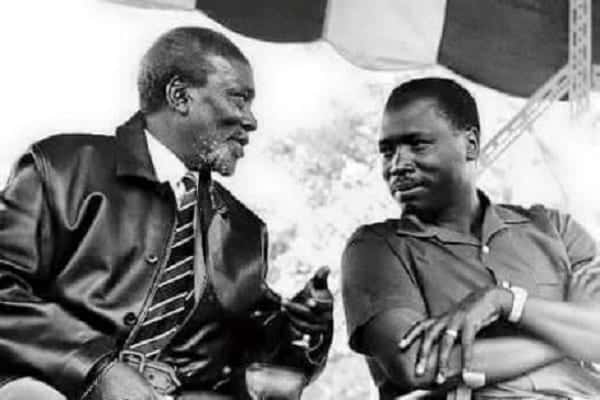 Last Tuesday marked 39 years since the death of Mzee Jomo Kenyatta, Kenya's first president.
But it was in April 1968 when it first dawned on those surrounding him that he was indeed mortal as they discreetly started plans for a lavish State funeral, documents stamped "top secret" seen by the Sunday Nation in London reveal.
Mzee was on a "working holiday" 49 years ago in Mombasa when he suffered a heart attack that left him unconscious for some days.
Although he recovered and continued to discharge his duties as president, the events of that fateful day set in motion  a series of arrangements for his future funeral, records of  meetings and correspondences between Kenyan and British officials indicate.
The contingency arrangements were planned in high secrecy and without Mzee Kenyatta's knowledge by a close knit group of ministers working with the British Government Commonwealth Office staff at the Lord Chamberlain's Office — a department in the British Royal Household that handles royal funerals and other ceremonies.
The group consisted of Vice- President Daniel arap Moi, Bruce McKenzie (Agriculture Minister), Dr Njoroge Mungai (President's personal physician and Cabinet minister) and Charles Njonjo (Attorney-General).
Also brought in to help with security and state funeral planning was Colonel J.R. Anderson, the Chief of Staff at Defence Headquarters Nairobi.
By July 15, 1968, the group had come up with a draft plan which McKenzie forwarded to Britain for evaluation.
According to the plan, upon the President's death, his body would be brought to his home in Gatundu for embalming.
On the third, fourth and fifth day, the body would be at State House, Nairobi, followed by a state funeral on the sixth day.
The funeral service was to be held at St Andrew's Presbyterian Church, Nairobi, preceded by burial in a consecrated ground near the city which was to be named "Kenyatta's Shrine".
McKenzie further requested the British officials to arrange for a qualified embalmer who could fly to Nairobi immediately after the President's death and also the secret construction of a special coffin in London.
To discuss these issues in detail, McKenzie — a British and Israeli spy who was the only white man in Mzee Kenyatta's Cabinet — requested for a meeting in London which was approved on August 27, 1968 at the Commonwealth Office.
Accompanying him to London was Col Anderson who had been advised earlier on to bring with him street maps of Nairobi, plans and photographs of the Gatundu home, State House, St Andrews Church and the proposed burial site.
In addition, he was asked to bring the weight and measurements of a depositum plate and a draft inscription for the engraving.
In London, the two Kenyan officials were introduced to Mr Newiss, an architect from the British Ministry of Public Buildings and Works who provided drawings for the construction of a catafalque (a platform supporting the coffin).
These drawings were to be kept in Nairobi until the President's death then brought out for the catafalque to be constructed locally before the lying-in-state ceremony.
Also introduced was Mr John Kenyon of J.H. Kenyon Ltd Funeral Directors, 45 Edgeware Road London.
"This firm apparently has exceptional experience in matters of this nature. The firm will be able to give a great deal of advice and indicate further measures that can and should be attended to well in advance," said Mr Tollboy of the Commonwealth Office.
While in London arrangements were also made for Col Anderson to visit a firm associated with a Mr Summer which specialised in  designing depositum plates.
By the time the two Kenyan officials were returning to Nairobi, they had made up their minds to engage the services of J.H. Kenyon Ltd Funeral Directors who had been recommended to them.
In a secret letter dated October 1968 to the funeral directors, Col Anderson gave clear instructions about the embalming, the coffin and depositum plate.
He instructed the body of the President be embalmed as soon as possible after his death and be prepared to lie in state for six days — meaning an embalmer was required to fly from London.
But before the expert's arrival, Mzee Kenyatta's body would be placed in an ordinary coffin packed with dry ice.
His skin was to be protected by a foil to minimise the risk of coming into contact with the dry ice.
The casket was to be made of Meru Oak, of the Aston design, with silver oxidised handles and embellishments and be zinc lined.
The official gave the president's measurements as height 5'8" and 20" (width across the shoulder).
"Let me know how much Meru Oaks you require in what length and I will arrange for it to be sent to you," he wrote.
The casket was to be constructed immediately and retained by the funeral directors until they were informed of the death of the president.
In what  might  offer an insight into  how the crypt in which Jomo Kenyatta's body currently lies was constructed, Col Anderson, in his letter, directed that in order for the casket not to be affected by lying underground after the burial and so that it could be displayed in future at the "Kenyatta Shrine", a protective vault be inserted into the grave.
This vault was to be sealed to protect the casket against soil conditions, rain seepage and termites.
Two suitable vaults for this purpose were suggested: An American one similar to that used in the burial of President John F. Kennedy in 1963 and a fibreglass vault mostly used in eastern European countries.
Immediately a suitable vault was selected and purchased, it had to be packed in a solid crate disguised as spares by being labelled "M. Spares" and be sent to "Kenya Army Ordnance Depot, Kahawa, Nairobi," where it would be hidden.
Because of the atmospheric conditions in Kenya it was not going to be possible to display the body permanently at the mausoleum because it would eventually disintegrate.
On this, Col Anderson informed the London funeral services company that a mask of the president should be made at the time of his death: "This mask should be made to include head and shoulders so that it can be fixed inside the casket over the president for permanent display and hermetically sealed at the time the casket is to be disinterred and transferred to the shrine."
The funeral directors suggested a bronze mask over a plaster one, arguing a bronze mask was near life-size and could be shaded to almost match Mzee Kenyatta's skin colour.
It was requested a depositum plate be made of Silver Oxide partially engraved, leaving out date of death.
For secrecy,  Anderson wrote: "All letters and communications are to be kept on a secret basis. They will be sealed in an envelope addressed to me personally as follows, J.R. Anderson OBE, Chief of Staff  Defence Headquarters, Box 668 Nairobi. These letters and communications must be enclosed in a mother envelope addressed to R Tallboy ESQ, Commonwealth Office, Downing Street, London, for his personal attention. He will then forward them to me."
Apart from the State funeral plans there were also contingency measures to ensure  smooth transfer of power according to the secret documents.
A ministerial committee of five key Cabinet ministers chaired by Vice-President Moi was formed.
A member of the team was expected to always be on standby in Nairobi in case the President became seriously ill or died.
It was tasked with appointing an executive committee made up of the Head of Civil Service, Commissioner of Police, the head of Special Branch and an additional officer from the Office of the President who would liaise with the Provincial Administration.
The team would operate from a secure location  in Nairobi code- named "Security HQ", with State House, mentioned as the ideal location.
The Vice-President was expected to always be in touch with police operations while Col Anderson was asked to prepare a security plan after the president's death — including a list of "hostile" Kenyan citizens who would be detained immediately the president fell seriously ill or died until peaceful transfer of power was "established beyond doubts."
Those compiling the list were not to be told why the names were required and, after all, the explanation would go, all countries kept records of dangerous citizens.
The security plot was also to include arrangements for restriction or, if need be, the expulsion of members of all unfriendly diplomatic missions in Nairobi to cut any aid to those Kenyans likely to interfere with the succession plans.
One hotspot to be keenly watched was Nyanza Province — particularly Kisumu — with a proposal to disrupt communication in the area by cutting down telephone lines to a number that could be monitored by the Special Branch.
There were also arrangements to mount roadblocks in the region and cut it off from the rest of Kenya.
A secret unaccountable fund was also set aside to help in implementing the plan without going through the usual departmental approvals.
The contingency plans for Mzee's funeral continued for 10 years until his death in August 1978.
In 1977, one year before his death, Britain had started drafting messages of condolences to be sent to First Lady Mama Ngina and Vice-President Moi.
Rarely had the death of any African leader received such widespread attention in the British media like that of Mzee Kenyatta in 1978.
The BBC and many private broadcasters carried his profile as well as tributes from across the world.
The Times of London devoted an entire page in which they described him as "one of Africa's leading post-colonial statesmen" while the Daily Telegraph in its one-and-a-half pages tribute described him as a shrewd and successful ruler of post-colonial Africa.
But the newspaper also expressed fears that Kenya would become a perfect ground for communist subversion following Mzee Kenyatta's death.
For the funeral, Britain provided a gun carriage and 50 rounds of blank ammunition for firing the gun salute, all paid for by the Kenyan Government.
Because they were military cargoes, special clearance had to be sought from countries over which they were to be flown.
A small team of five men from the British military and civil service was also sent to advise on the ceremonials and to train a detachment of the Kenya Army that would escort the gun carriage.
The level of the British involvement in the funeral was so deep that the former colonial master wanted to know the details of every dignitary who was to attend.
The Queen was represented by Prince Charles who was accompanied by Sir Malcolm MacDonald, the last Governor-General of Kenya, among other senior officials.
The American delegation was led by Supreme Court Judge Thurgood Marshall who helped in drafting the Lancaster Constitution, US  Ambassador to the UN Andrew Young, Coretta King (the wife of Martin Luther King), Jeff Carter (the US president's son) and his wife among many others.
Also in attendance was Uganda's strongman Idi Amin Dada.
Source link-nation.co.ke
Jomo's funeral was planned 10 years before his death