Sad: Married Nairobi city women secretly work as prostitutes

Sad: Married Nairobi city women secretly work as prostitutes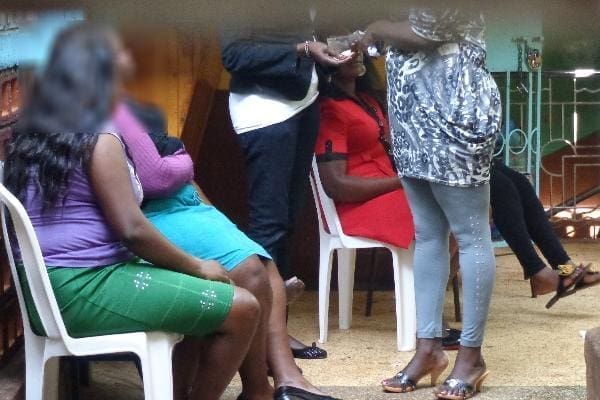 A growing number of middle-class housewives secretly work as prostitutes, The Nairobian has established.
Although accurate statistics are hard to come by, we have evidence that some of these women are so successful at it that they have even invested and own shopping boutiques and apartments within the city. And you guessed right: their husbands don't know what their wives do.
The greedy ones do it for (more) money. But some do it to add thrill and adventure to dreary middle-class lives.
We met with a married prostitute at Rhapta Road in Westlands on Wednesday at 11.30am. We had spoken on phone previously and for obvious reasons, she wasn't keen to talk to journalists. Eventually, she agreed to be interviewed.
After waiting for ten minutes, she came driving a Toyota Saloon and, without getting out of the car, told us to follow her to the Vineyard Restaurant.
She was polished, her spoken English flawless.
"Listen, its not like I do something illegal or go out to the streets to wait for clients. Many women do it," she began defensively.
Rachel (not her real name) has been married for seven years and has two children, both male. She refuses to disclose their ages.
"I have a husband that I love very much. He is a business man and he gave me some capital to start my own business," she says.
The business wasn't doing very well and one of her regular clients, also married, was keen to sleep with her, so she jokingly suggested that he stocks her business.
"He immediately sent me to his car to get his cheque book and wrote me a cheque for Sh40,000. He wanted to sleep with me in exchange and I saw no reason not to since we were both married and had to go home before midnight," says Rachel.
After that incident, she has never looked back. She dates rich married men, who fund her businesses. She now owns four shopping boutiques in various parts of town and says she is putting up rental flats in the outskirts of Nairobi.
"There are a lot of rich men who would gladly pay to have my company for a few hours everyday," says Rachel. Her husband believes she has made all that money from her businesses.
All her clothes shops have different secret partners who are her lovers.
"They are partners but nothing is written down. I pleaded with them to give me the capital to fund the business. Some contribute a little but I doubt they want anything back," says Rachel.
The trick, she says, is to once in a while send the man Sh10,000 as his share of profits.
"They laugh and tell me to plow it back into the business. Or when we meet, they even spend more on me. I am not a prostitute, I am just a business woman who never lets go of an opportunity," says Rachel.
Then she drops a bombshell: Nearly all her friends who are married, also have other men paying them for sex.
"I don't know why people fool themselves. A woman who has children will do a lot of things to secure a bright future for her kids. Your wife will sleep with her boss for a promotion, she will sleep with another man to fund her business."
"It doesn't mean she doesn't love you. Actually, she loves you so much. That's why she doesn't want to pass financial burdens to you yet she wants a good life for her family.
I have shares here and there. Some were gifts from previous lovers. I have the shops and I will not rest until my net worth comes to Sh100 million. I will do every thing to get there," says Rachel.
Tellingly, although she claims to be worth a tidy sum, she walks out of our meeting leaving me with a Sh1,600 bill, even though all I took was water while she ate chicken wings and had a glass of wine. Rachel also referred us to another woman she  her 'godmother' in the business. She owns an apartment and several flats in the city.
Her 'godmothers' first block of flats was built for her more than a decade ago by a mzungu 'client' she met. Her husband died four years ago, and she still does prostitution on the side and has built more rental houses.
Although we were given her contacts, she refused to meet us and stopped picking our calls.
Away from the soothing music and expensive food Western of Nairobi, in seedier down town Nairobi, married prostitutes thrive. Across River Road, at Kericho East Day and Night club, it isn't hard to get a married woman who sells her body during the day before heading home carrying milk and bread for her family. At 'Kericho', you are assaulted by exposed cleavages, pot bellies protruding from tight tops and acres and acres  of exposed thighs riddled with stretch marks.
Some women, dressed decently, wring their hands solemnly or engage in chitchat. All you have to do is order a drink, and ask the waiter to get you a married woman.
The one who was recommended to us joins our table dressed in a brown skirt suit. Her attire has seen better times, her head in dire need of a new weave. Bubbly and warm, she refuses to drink, ordering a soda instead. Jane is her name, and she strikes an instant connection with my colleague.
They quickly switch to mother tongue. She agrees to go for a quick session for Sh300 but says she can't do night outs since she has children to feed and a husband to take care of. She doesn't want to talk about her family, but wants to get down to business.
This saga first came into limelight when an investigative piece by TV reporter Purity Mwambia exposed married women hawking their wares at Rico's pub in down town Nairobi. Another place full of married women is Good Hope Bar, also on River Road.  A report commissioned by the then Nairobi Mayor George Aladwa.
Sad: Married Nairobi city women secretly work as prostitutes