Raila Odinga's trust problem and his troubles with Evans Kidero
Raila Odinga's trust problem and his troubles with Evans Kidero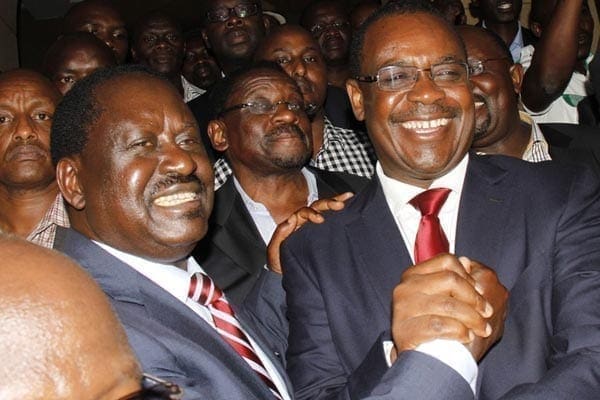 NAIROBI, KENYA: After failing to share the podium on several occasions during major events in Nairobi, former Prime Minister Raila Odinga and Nairobi Governor Evans Kidero eventually met last Saturday at a less significant function – the homecoming party of a civic leader in Kisumu city.
Courtesy of little known Prisca Misachi, Ward Representative of Kaloleni in Kisumu County, the two leaders met, hugged and put on a magnificent show of rare unity. The public display came in the wake of reports that Kidero never accorded the Orange party leader a deserving reception during the Governor's ball on the eve of Jubilee celebrations.
The meeting at Prisca's party also happened against the backdrop of the Nairobi Governor's failure to attend the official opening of the Makadara Railway Station presided over by his party boss. However, Kidero graced similar functions presided over by retired Presidents Daniel arap Moi and Mwai Kibaki. In public, they speak; the two leaders maintain they are "the best of friends" and that the near-misses of their public appearances are only coincidental.
However, party operatives with unlimited access to the CORD leader see a bigger problem beyond the cold war between Raila and Kidero. In their boss, they see a leader who is too honest and trusting even to political competitors – a factor they say has previously worked against him and cost him the highest political prize. Pulling out According to this assessment, Kidero has already exhibited signs of pulling out of Raila's wings to chart his own political path. But for his characteristic "accommodative" nature, the former PM is either blind to this fact or is unwilling to doubt Kidero's loyalty.
During the Tenth Parliament, for instance, Raila strongly defended one of his "trusted" lieutenants Deputy President William Samoei Ruto, then the Agriculture minister, against accusations that he was leading an internal revolt within the Orange party. Raila even went ahead to bend the party's Constitution to accommodate Ruto as a co-deputy party leader, alongside then Deputy Prime Minister Musalia Mudavadi. Ruto eventually severed links with Raila as anticipated. And in the run-up to the 2013 elections, Raila was at it again defending Mudavadi at every turn, even as the media and some of his allies insisted Mudavadi was on his way out of ODM.
The former PM equally came to the strong defence of Lands Cabinet Secretary Charity Ngilu after she briefly teamed up with Coalition for Reforms and Democracy (CORD) at its launch at the KICC grounds, Nairobi, in December last year until the day he saw her announcing she had defected to Jubilee.
Learnt hard way
Head of Political Science and Public Administration department at the University of Nairobi, Dr Adams Oloo, says the former Prime Minister has learned his fair share of lessons on this matter, "and cannot possibly falter on the Kidero question". Oloo argues that Kidero may not necessarily be an outright rebel out to challenge Raila's political might but rather an ambitious politician like any other "who was strategising to position himself in a post-Raila era".
"The moment Jubilee was declared to have won the March poll, its leaders thought they had politically vanquished Raila and those within ODM and CORD, such as Kidero, started positioning themselves to inherit Raila's mantle," says Oloo. However, the political scientist observes that Jubilee and politicians within CORD may have realised that Raila is still politically strong and active.
According to Oloo, those who are quick to notice this factor have changed tack while those who imagine Raila is weakened continue to run into trouble with him. And some key Raila backers believe Kidero is among those convinced the former PM will not be a factor in national politics by 2017. They claim the Nairobi Governor is behind the initiative by the so-called Young Turks, led by Kisumu Town MP Ken Obura, to take over leadership in Nyanza region and eventually ODM party. Kidero has expressed interest in the post of Vice Chairman.
Reached for comment, Obura declined to deny or confirm whether he was indeed acting at the behest of Kidero. He said he could not respond to allegations made by individuals who are not even confident enough to identify themselves or stand by their statements.  "This matter came up during Prisca's homecoming and it was handled exhaustively and there is no need of revisiting it. We as a party, including the Nairobi Governor, are all united behind our party boss," said Obura. Separately, Ugunja MP, Opiyo Wandayi, is particularly unhappy with the kind of reception accorded to Raila during the Governor's ball. As an elected leader on an ODM ticket, says the legislator, Kidero should at all times handle the former PM with due dignity and decorum.
There have been several versions of what exactly transpired during the Governor's dinner party with some of those who accompanied Raila insisting the initial arrangement excluded him from the high table. It is also claimed that although the Governor received his party leader, he abandoned Raila and retreated to his City Hall office only resurfacing later to receive his chief guest, President Uhuru Kenyatta, who arrived late. But Kidero's handlers, including his media team, quickly moved to discount this narrative by circulating pictures to media houses and on social media of Raila being welcomed and hugged by the Governor and his wife, Susan.
Skipping events
"Kidero is often quick to remind us that he met Raila last night, or they talked last week and that they will be meeting at a function next month, etcetera. That is not enough, because we also meet and talk to Raila. The perception out there is that he has been avoiding Raila and skipping his events," says Wandayi.
Source-standardmedia.co.ke
Raila Odinga's trust problem and his troubles with Evans Kidero