Speaker Allows Censure Motion Against Ole Lenku
Speaker Allows Censure Motion Against Ole Lenku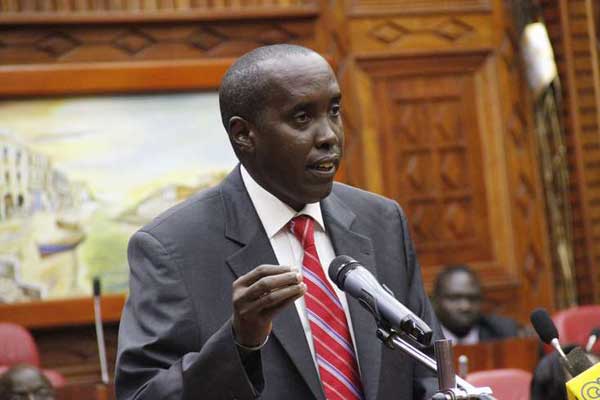 Speaker Allows Censure Motion Against Ole Lenku: NATIONAL Assembly Speaker Justin Muturi has approved a censure motion against Interior Cabinet Secretary Joseph ole Lenku.The motion, sponsored by Cord and filed by Kisumu Central MP Ken Obura, was approved
The motion, sponsored by Cord and filed by Kisumu Central MP Ken Obura, was approved yesterday and is seeking to declare Lenku "incompetent".
The motion follows a series of raids on Kenyans, including terror attacks.
Obura says that this has been characterised by the Government's and the national security organs' dismal failure to stop loss of life and property.
"This House expresses its dissatisfaction with the conduct of the Cabinet Secretary for Interior and Coordination of National Government, Mr ole Lenku, and censures him for his total inability and incompetence to secure peace and security in the country," the motion reads.
The motion was to be scheduled for debate by the House Business Committee during its meeting last evening.
However, unlike the previous motion against Devolution and Planning Secretary Anne Waiguru, which sought to have the President sack her, a censure motion leaves action to the discretion of the Head of State.
The motion has already attracted opposition from leaders of the Maasai community. Last weekend politicians from Kajiado said that they were opposed to any motion that seeks to remove Lenku from office.
Kajiado Central MP Joseph Nkaissery and Kajiado West MP Moses ole Sakuda both said that MPs should look at how they can unite against insecurity instead of attacking an individual.
There have been calls from various quarters for the President to deal with his security chiefs over rising insecurity across the country.
The National Assembly Administration and National Security Committee had also given President Uhuru 14 days from the Mpeketoni attack to sack the security chiefs or the committee will explore "alternative means".
The committee, led by Tiaty MP Asman Kamama, said the continued stay in office of National Intelligence Service Director-General Michael Gichangi and Inspector General of Police David Kimaiyo is of no value.
"The President should crack the whip; it can't be business as usual. Kenyans have lost confidence in those mandated with the security system and we are focusing on the Police and the NIS. What happened is impunity and depicts the state of our preparedness," said Kamama.
He associated the closure of the the US and UK consulates at the Coast to insecurity, and concluded, "The committee will not relent to ensure that those required to play their roles do so."