Chris Kirubi: Why I honoured Obama's invite this time round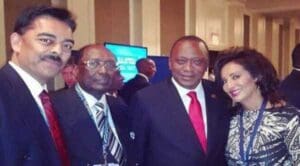 NAIROBI, Kenya, Aug 12 – When Capital Group Chairman Dr Chris Kirubi declined US President Barack Obama's invite to dinner in Dar-es-Salaam last year, he attracted both pats on the back and criticism for his stand but he is nothing if not one to speak his mind.
However, when the opportunity came for him to join the Kenyan delegation in Washington DC for the inaugural US-African Leaders Summit last week, he gladly went for the opportunity it presented to Kenya, he told Capital FM News.
"The messages that had been going out about Kenya were focused around Al Shabaab, terror attacks and Kenya being an unsafe investment destination. The summit was an opportunity for us to tell our own story, paint a true picture of Kenya as a competitive investment destination," he explained.
Still, he said, he did not regret his decision to turn down the earlier invitation. "It was an affront for Obama to come so close to Kenya, the headquarters of so many multi-nations including US companies and not cross the border."
But given one of the photos on his multiple-image screen saver is of him with his arm around Michelle Obama when she was a Senator's wife, with the much shorter Malia and Sasha at their feet, it appears the decision was not personal.
And the decision to make the most of the US-Africa Leaders Summit, he said, only made the most business sense "simply because we need America to play a role in our development. America is the largest economy in the world and you cannot wish it away. And we were very happy that we renewed our relationship."
A relationship Kirubi, who also accompanied President Uhuru Kenyatta on his trip to China last year, said is not threatened by Kenya's strengthening economic ties with China. "As I've repeatedly said, money has no colour."
America, Kirubi said, offered certain lucrative business opportunities starting with the large Kenyan Diaspora there, "We need to organise our Diaspora people. They are many there, they're very economically enabled and Kenya needs to link up with them to get them to play a major role investing in this country," he said echoing President Kenyatta.
Already research shows that the African Diaspora remits more to the continent than what is received in traditional Western aid.
Again as Presidential Spokesman Manoah Esipisu acknowledged prior to the US Summit, the Africa Growth and Opportunity (AGOA) Act, Kirubi said, also needs to be better exploited to grow Kenya's economy and create jobs. "With 15 years about to be given Kenya must decide how they're going to develop their textile industry," he said.
-Capital FM