Trafficked Kenyan woman in Oman Winnie Juma on hunger strike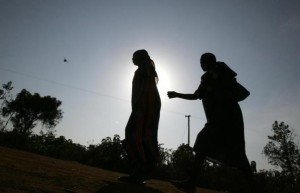 NAIROBI (Thomson Reuters Foundation) – A Kenyan woman taken to Oman by a recruitment agency with the promise of a job with an international airline is on hunger strike after being forced instead to work as a housemaid, Kenyan media reported on Wednesday.
Winnie Juma, from the Kenyan coast city Mombasa, has refused to eat for a week since starting work as a housemaid in Muscat, the capital of Oman.
"We are devastated as a family as … she is already seeking our help to bring her back home," her twin sister Rhillah Juma told Kenyan newspaper The Standard.
"We had so much hope that my sister could help turn things around for our struggling family but that hasn't happened."
Kenyans often migrate to the Middle East in search of jobs but are sometimes exploited in domestic servitude, brothels, massage parlours or in forced manual labour.
Rhillah Juma told the paper she had spoken to her sister twice by phone since she was flown to Oman by the recruitment agency. "Each time she cried for help to return home," the paper quoted Rhillah as saying.
In November 2013, the Kenyan government lifted a ban it had imposed in June 2012 on Kenyans going to the Middle East as domestic workers. It has faced criticism for failing to monitor overseas recruitment agencies adequately after reports of sexual assault, torture and starvation.
"Most immigrant workers are subjected to inhuman working conditions in the Gulf states," Francis Auma of the coast-based advocacy group Muslims for Human Rights, told The Standard.
"Their travel documents are confiscated on arrival."
Kenya's ministry of labour reported in 2013 that it had inspected 389 out of an estimated total of 500 labour recruitment agencies, the U.S. State Department 2014 Trafficking in Persons Report said.
The newspaper was unable to get comment from the recruitment agency.
Source-trust.org
Trafficked Kenyan woman in Oman Winnie Juma on hunger strike