YOUNG, TOUGH AND KENYA'S NEW ENVOY TO CANADA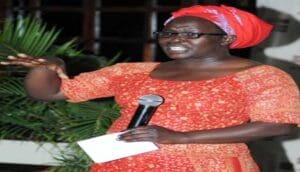 When Kenya's envoy-designate to Canada, Lucy Chelimo, 35, walked into County Hall's mini chamber to face a committee of MPs during the vetting process, she was expecting to be questioned on her marital status.
Working in human resources at DHL Kenya since 2012, she had interviewed hundreds of candidates and had put them through the same kind of pressure. When it was her turn to answer a similar question, she was ready to answer Kimilili MP Chris Wamalwa.
"You are unmarried. How do you think your status will affect your work as Kenya's envoy to Canada?" Wamalwa posed.
When the answer came, it was terse and to the point. "Being single is a status, not a competitive advantage," she shot back at the questioner, who immediately went back to scribbling his notes.
When Chelimo was employed at DHL Kenya, her first e-mail at work was to her business unit manager. The e-mail ruffled feathers and sent her bosses back to the drawing board, in the same fashion as her response to the MPs had sent some scampering for cover, figuratively speaking.
In the middle of a work related conflict with her boss, she wrote to him: "We are cross-purposing in our work. See you when I arrive."
Chelimo had been recruited at a time when DHL was undertaking a staff rationalisation programme and she was tasked with drafting and signing letters effecting changes in staff.
Instead of following the orders of her superiors, she asked for three months to come up with her own model for staff rationalisation, a decision that ruffled feathers in the company. They could not understand how a person who had just been recruited a few days earlier could be so daring.
"They had proposals that they wanted me to endorse. But I was not ready to endorse something that I had not participated in, so I declined," she said as she relived the incident during her farewell party last week.
Her boss Cleophas Amurono, the DHL Business Unit Manager in charge of East Africa Breweries (EABL) products recalled the incident:
"I was left wondering who this was with the audacity to write me such an e-mail," he recalled.
The two incidences are evidence of Chelimo's tough streak as she joins the diplomatic world where she will be expected to summon all her skills in healing the country's tainted image abroad.
ICC ISSUE
Chelimo was among 25 other diplomatic nominees appointed by President Uhuru Kenyatta. Her appointment elicited both excitement and doubt on whether she would be up to task of effectively representing the country's interests in one of Kenya's most important diplomatic stations after the UK and the US.
At 35, she is set to become one of the youngest Kenyan representatives abroad.
With the ICC issue hanging around the country's neck and Canada being among countries that issued a travel advisory against Kenya for its citizens, Chelimo's diary is already full as she lands in Ottawa.
The nominees are currently undergoing a three-week induction programme before reporting to their diplomatic stations.
The Kenyatta University alumni however has no illusions about the tough task ahead of her, especially on the ICC issue.
"The selling point will be on our efforts to resolve the ICC matter. The international community will not see the case, but our efforts in dealing with the issue. I will also undertake to portray the country's security as effective in dealing with the terrorism threat and the need for the developed world to participate more in counter-terrorism efforts," she said.
THE PREMONITON
Canada has one of the highest populations of Kenyans living abroad either studying or working in fields such as medicine, information technology and law. There are also hundreds of Kenyan athletes living and training in the North American country.
Both countries are members of the commonwealth, further underlining the historical and cultural ties between them. How the environmental science graduate will transform her experience in the corporate world to Kenya's diplomatic advantage will either vindicate her critics or prove advocates of youth empowerment right.
"I have what it takes to represent the country's interests and I have not at any moment ever doubted my ability to deliver," says the former Solian Girls High School student.
She says her appointment to Canada came to her as a premonition.
"I once told my 13-year-old daughter that I wanted to either become an ambassador, cabinet secretary or principal secretary. When I was nominated, everybody thought I had prior information. But to me, it was God working in his mysterious ways," she recalled.
Her daughter is a Form One student at Loreto Girls.
From the initial comments in the Press gallery when she appeared for vetting, she didn't appear 'glamorous' enough for a person being sent to Ottawa.
A journalist was even heard asking how this "very dark lady" with short hair and no make-up would interact with the high and mighty in the complex world of diplomacy and foreign policy.
But asked if her simple demeanour has anything to do with her upbringing in the remote Kapkokwon village in Baringo County, she gave an equally simple response: "Simplicity is my brand and it is unlikely to change even in my new job. Simplicity defines me."
Chelimo defines herself as humble and fair and a perfectionist.
During her free time, she enjoys working with people in her community back in Baringo and has been a board member of Ngetmoi Girls since 2010.
"During my younger days, I would walk into a criminal court and listen to the proceedings. I came to believe that there are people who are convicted unfairly," she says.
Although her interests lay in medicine, she found the court proceedings an eye-opener.
"I never became a medical doctor but my greatest push in life is to put a smile on someone's face," she told The Standard.
Her advice to the youth: "You need to love and trust yourself. When you love yourself, you will not allow yourself to be pulled down by criticism."
-standardmedia.co.ke