INSIDE ODM: HOW RAILA MADE DEAL TO SAVE PARTY
INSIDE ODM: HOW RAILA MADE DEAL TO SAVE PARTY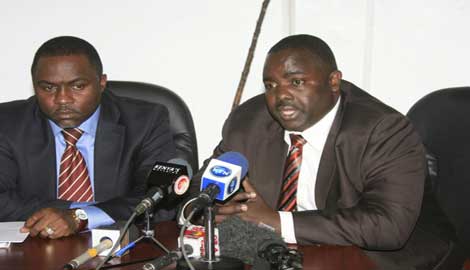 Orange Democratic Movement (ODM) leader Raila Odinga bowed to voices demanding change in the party and brought in younger faces and more women as he tried to balance interests to reflect the party's key regions of support.
In the end, Raila opted for boardroom appointments to quell the tensions that were threatening to tear the orange party apart.
By handpicking new party officials, he also avoided another confrontation between rival factions that clashed during abortive elections in February that were brought to an abrupt end by the infamous 'men in black'.
Specifically, ODM expanded positions to accommodate members who had expressed interest in the bungled polls and to ensure regional balance.
The party appeared to yield to pressure from youthful leaders because the old guard was left out of leaders' list. Not surprisingly, the compromise reached during the party's retreat in Lake Elementaita, Gilgil, was not received well by some party loyalists.
The proposed top officials are Raila (Party Leader), John Mbadi (Chairman), Ababu Namwamba (Secretary General), Mombasa Governor Hassan Joho (first Deputy Party Leader) and Kakamega Governor Wycliffe Oparanya (second Deputy Party Leader).
Others are Governor Josphat Nanok (first Deputy Chairman), Paul Otuoma (second Deputy Chairman), Adan Keynan (third Deputy Chairman), Christine Lemein (fourth Deputy Chairperson), Timothy Bosire (Treasurer), Opiyo Wandayi (Secretary Political Affairs) and Abdikadir Aden (Organising Secretary).
biggest beneficiary
Elizabeth Ongoro (first Deputy Secretary General), Agnes Zani (second Deputy Secretary General), George Aladwa (first Deputy Organising Secretary), Florence Mutua (second Deputy Organising Secretary), Rosah Buyu (third Deputy Organising Secretary) and Suleiman Dori (fourth Deputy Organising Secretary) conclude the list.
The list is, however, subject to approval by ODM's National Delegate Conference (NDC) and the Governing Council, which was scheduled to meet on November 28, but has been pushed to allow members attend the burial of Homa Bay Senator Otieno Kajwang' who died last week of a heart attack.
Busia County becomes the biggest beneficiary with Ababu, Mutua and Otuoma. The list seeks to avert an impending fallout that has threatened the future of ODM, but some discontented members criticised Raila over the arrangement, and threatened to take a low profile in party matters.
Otuoma (Funyula MP) did not shy away from registering his disappointment over the decision, terming it disastrous.
"Today we have seen disaster in the party we were trying to protect. We now know that ODM has its owners, but we must make sure that we take the party back to the people. These appointments were stage-managed and choreographed," he said.
He continued: "We are not going to allow parties to be tribal and individual outfits. I am shocked that some of these people have the nerve to claim legitimacy."
Otuoma said he went round the country campaigning to be the chairman and not the vice chairman.
"Why would I be appointed as one? If some people think they can massage our egos with a position, then they are mistaken. The problem in the party was the weak secretariat. That is what we wanted to deal with," he charged.
"It is very unfortunate that a party as big as ODM can start treating such important matters in a very casual manner. It has just embarked on a journey, whose destination is not known. We can not be hijacked, and get ambushed with leaders, that their era is gone," he added.
The lawmaker said they had been fighting for the party for a long time, calling for consistency and loyalty in the decisions and actions taken, but lately they have witnessed a lot of erratic behaviour.
vibrant branches
"For those who believe in the party, we have to find a way to protect the dreams of the people who believe in democracy. This is a sham. Why then were they taking us round and round, to do the campaigns, then disrupt the elections, promise elections, and instead you appoint people. We have spent a lot of energy, time and resources campaigning for these positions, yet people who don't even believe in the party are picked to run it," he said.
He cautioned: "ODM belongs to the people. People have to come together and reclaim the party. It appears some people want to kill our dream in the party."
Oparanya, who spoke to The Standard on phone from Naivasha, stressed that the party must move on, whichever way the members decide to address the challenges it is facing.
"The names proposed will be ratified during NDC meeting where delegates from all branches across the country will be invited to participate in the exercise. They will decide whether we will serve the remainder of the period, or will conduct another election before the General Election of 2017, " he said.
Oparanya will become the senior-most ODM official from Western region followed by Otuoma (Funyula) and Namwamba (Budalang'i) if the delegates endorse the list.
Mbadi affirmed that there had been a lot of confusion in the party at the branch level and it was important to deal with issues of officials once and for all.
"We need to make our branches united and vibrant. Where we have challenges, we will move there and unite the officials," Mbadi said.
He continued: "We will embark on a robust recruitment drive for more members. Now that we have a very youthful secretariat, we need to attract more youths to the party and more members."
Mbadi acknowledged that their competitors had been using the composition of the secretariat as an excuse to tell youth to keep off the party, but right now, that is behind them.
"You can see the team now. You really cannot fault the new line-up. The first agenda will be reconciling the party to ensure we have unity. Nobody has lost, we are all winners within the ODM family," Mbadi said.
Keynan (Eldas), welcomed the new line-up, saying they tried to satisfy all contesting members by striking a compromise.
"Now everything should be happy. We have catered for everyone and no one has been left out. All regions have been considered," said Keynan.
Another legislator from Nyanza who declined to named, said the party will have settled on a date for the Governing Council and NDC meetings by December. "What we have done is to strike a compromise," he said.