Uhuru to host National Prayer Breakfast today, calls for peace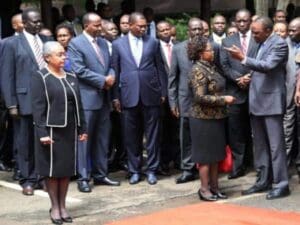 President Uhuru Kenyatta will today lead the country in an annual National Prayer Breakfast organised by Parliament.
The prayer session brings together leaders from across the political divide, government officials, religious leaders and members of the diplomatic corps.
It will be held at the Safari Park Hotel in Nairobi.
The prayers give leaders the opportunity to reaffirm their commitment to God and dedicate the nation to divine protection.
National Assembly Speaker Justin Muturi and his Senate counterpart Ekwee Ethuro urged all legislators to attend the service despite being on recess. This will be the fourth prayer session Uhuru hosts since he took over power in 2013.
Last year, one of the main themes was staying steadfast in the war on terrorism, crime and fraud.
Uhuru urged politicians not to engage in inter-ethnic conflict, tribalism and corruption.
There were about 600 invited guests during last year's event.