Nyeri MP Priscilla Nyokabi denies 'fixing' Uhuru, Ruto at ICC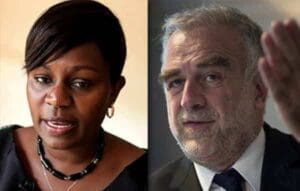 David Matsanga has been attacking Priscilla Nyokabi on social media and Nyokabi has responded.Here is part of Matsanga's statement:
I am ready for Wakili Nyokabi – Women Representative Nyeri County on any live TV so that we finish and see who will panic and collapse, see who has evidence, see who fixed Uhuru Kenyatta, see who furnished ICC with Uhuru's information as late as this year 2014. Let us have a show , If Nyokabi says she did not deal with ICC , then how come in documents to court she was thanked by Moreno Ocampo for helping ICC piece up evidence?-David Matsanga
———————————————————————————————————————————————-
Nyeri MP Priscilla Nyokabi denies 'fixing' Uhuru, Ruto at ICC 
Nyeri Women's Rep Priscilla Nyokabi has dismissed allegations that she was involved in 'fixing' President Uhuru Kenyatta and his deputy William Ruto at the ICC saying the accusation is by her political rivals.
She said her role as the executive director of Kituo cha Sheria, an NGO, was mainly to settle post election violence victims through the Operation Rudi Nyumbani initiative and the push for compensation.
"I was not involved in any of the allegations. Our work as an NGO was just to settle victims. They have started empty politicking. They should wait for 2017 general elections and at that time, Nyeri voters will decide," she said at Gatugi PCEA church on Sunday.
Nyokabi also said she has not had any contact with the ICC and that the comments on Facebook are "falsehoods, propaganda and rumours" to taint her name.
She urged Kenyans to use social media to tell the truth instead of creating propaganda and misleading the people.
Nyokabi was accompanied Korir Wesley (Cheranganyi MP), Cecilia Ng'etich (Bomet women's rep) and Mary Seneta (Kajiado women's rep).
Seneta urged Kenyans to ignore the rumours about Nyokabi saying the country requires unity to grow. Ngetich and Wesley asked the people to forget the past and focus on the future, Wesley noting that the ICC case is on the verge of collapse.
"This is not the time to start asking who did what and who said what. The country has more pressing and urgent matters like insecurity and farmers' issues," he said.
The MPs further urged the government to educate Kenyans about the tetanus vaccine to clarify doubts.
"Give Kenyans more time about this matter. There is a lot of misinformation. We need the ministry involved to sensitize people," Ng'etich said.
Seneta said creating awareness before the vaccine is rolled would be the best approach.
– the-star.co.ke