Switzerland freezes accounts of Kenyans linked to Anglo Leasing scandal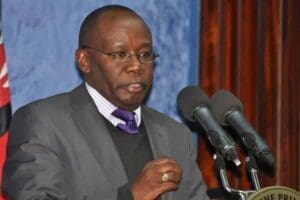 NAIROBI, KENYA: The Swiss Government has frozen accounts of persons linked to Anglo Leasing scandal and is on the process of repatriating the monies stashed in Geneva to Nairobi.
Swiss Ambassador to Kenya Jacques Pitteloud and Attorney General Githu Muigai revealed yesterday that the process is at an advanced stage to return the amount.
However, both officials remained tight lipped on the identities of persons whose accounts have been frozen or the exact amount but independent source involved in the processes told The Standard that the amount is about Sh1 billion.
"I was in Switzerland recently and was able to confirm that Kenyan money is being held in Swiss banks. As to who was involved or the amount, the modalities are being worked on now," Prof Muigai said.
On his side, Pitteloud said that his government was sending a stern warning to corrupt government officers who still hide the money in Geneva that their days are numbered.
The envoy said that the Federal Government of Switzerland has so far repatriated billions of monies to countries such as Haiti, Angola and Nigeria while those for the Democratic Republic of Congo was not able to be repatriated due to technical hitches.
"We are sending a strong message to corrupt government officials and dictators that if you loot money in your country and hide it in Swiss banks, your days are numbered," he said.
The two spoke at the AG chambers when Prof Muigai and the Ethic and Anti-Corruption Commission handed over more files to Swiss government to help in ongoing investigations by the Federal Director of Prosecutions in Geneva.
EACC vice chair Irene Keino, CEO Halake Waqo and Deputy CEO Zablon Mubea witnessed the handover of the files.
standardmedia.co.ke