REVEALED: SLAIN NAIROBI LAWYER HAD DIFFICULT MARRIAGE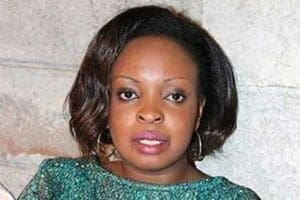 The lawyer who was allegedly shot dead by her husband in Buruburu last week had complained of marital problems.
Friends and relatives said Linda Wanjiku Irungu — a mother of one son — constantly complained that her husband physically abused her, especially when he was drunk.
"We asked her to leave on several occasions but she said her husband would change," a close friend of Ms Wanjiku told the Sunday Nation.
On the fateful Friday morning, Linda's husband, Erastus Ediot Odhiambo, arrived home at around 3 a.m. and found his wife missing. He left and returned an hour later to find her in the house. A quarrel ensued.
Ms Wanjiku, who was Odhiambo's second wife, had attended a party with friends. She had stated on Facebook page earlier in the day "Happy Thursfriday to y'all, catch you later my pals."
According to the lawyer's sister Diana Irungu, the couple began quarrelling at around 4.30 a.m.
"My sister decided that we leave for our parents' home in Buruburu Phase 2. When she started driving, her husband caught up with us, opened the car door and pulled her out," she said.
SHOT DEAD
Ms Irungu said Mr Odhiambo then pulled out his gun and hit her sister on the back of the head several times as she lay on the ground.
"He kept kicking her and even fired at her despite my pleas that he lets her go. I then called my father and brothers," she said.
Hellen Wesonga said she went to the compound with other neighbours minutes after hearing the gunshot and found Ms Wanjiku lying unconscious on the ground.
"I saw Linda's sister screaming while her father and brother tried to lift her into the car. Her husband kept blocking and asking them to leave her alone," she said.
With the help of neighbours, Linda's father and brother Renson Karanja put her in the car and drove to Jamaa Hospital where she was pronounced dead.
"My sister was unconscious when we arrived and that is why we decided to take her to the nearest hospital," Mr Karanja said.
Ms Irungu said her sister and husband have had differences for long.
According to the post mortem examination results, Ms Wanjiku's body had a bullet wound on the upper right side of the back.
BRUTAL MURDER
Dr Charles Muturi — a pathologist at Kenyatta University Funeral Home — said a single close range gunshot to the chest killed Ms Wanjiku.
The report released to Ms Wanjiku's parents on Sunday showed that apart from the bullet wound, she also had bruises on her body, some of her hair had been plucked out and blood was oozing from the nose.
Ms Wanjiku's mother, Anita Irungu, took custody of the grandchild. She said her daughter had complained to her on many occasions about Odhiambo's brutality.
Officers from the Directorate of Criminal Investigations picked up Mr Odhiambo from the house and took him to Buruburu Police Station.
Buruburu police boss Richard Kerich said investigations into Ms Wanjiku's death had begun. Police locked the couple's house at Wang'ombe Waihura Court in Buruburu Phase 5.
Friends and relatives are meeting at Ms Wanjiku's home to plan for her funeral.
-nation.co.ke