ICC: Jubilee MP drafts motion to give William Ruto immunity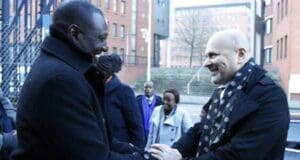 A new effort to shield Deputy President William Ruto from criminal prosecution during his tenure in office may have a bearing on his current case at the International Criminal Court ( ICC), where he is on trial for alleged crimes against humanity in The Hague, Netherlands.
Igembe South MP Mithika Linturi, a member of President Uhuru Kenyatta's The National Alliance (TNA) party has proposed a constitutional amendment to Article 143 of the Constitution of Kenya that would extend to the DP the immunity enjoyed by the President against criminal and civil proceedings.
More significantly, Linturi proposes that immunity for both the President and his deputy from any kind of prosecution extends to all international treaties that exclude such amnesty, and to which Kenya is a signatory. If the change to Article 143 (4) is passed, it would affect DP Ruto's case at the ICC.
Linturi has filed the draft Constitution of Kenya (Amendment) Bill 2015 with the office of the Clerk to the National Assembly, but insists it has nothing to do with the ongoing ICC cases.
Ruto is presently at The Hague-based court where his trial resumes after a break. ICC Chief Prosecutor Fatou Bensouda has since withdrawn charges against President Kenyatta for lack of evidence.
The proposed amendment is also seeking to bring Article 147 of the Constitution into conformity with the International Crimes Act, which domesticates Kenya's membership to the Rome Statute.
See Also: Witness: Ruto incited Kalenjins to expel Kikuyus
"The bill primarily aims at giving effect to Article 2(5) of the Constitution of Kenya, which entrenches general rules of international law as part of the law of Kenya by inserting immunities recognised under customary law for the President and the deputy President," said Linturi in his proposal.
Personal immunity
"Long-standing customary international law conferred immunity described as 'personal immunity' or immunity on Heads of state, Heads of government and diplomats to allow for smooth conduct of international relations. This immunity does not result into immunity as this personal immunity is only conferred as long as the person remains in office," he says.
Although the MP insists that the amendment is not related to the ongoing case against Ruto, it has already attracted criticism.
Members allied to the opposition CORD were quick to react to the proposed constitutional amendments, with Suba MP and ODM chairman John Mbadi reading a political motive by Jubilee.
"The MP is reading the Constitution in isolation. Such people are being pushed by their political godfathers to take us back to where we have come from. One has to realise that the current leadership is not happy that they are ruling when times have changed and they are ready to do anything to implement their agenda. People should leave the Deputy President to handle his case instead of wanting to be seen to protect him," said Mbadi.
Homa Bay Town MP, Peter Kaluma was also skeptical over the proposed bill, saying it was aimed at hoodwinking supporters of the DP.
"They are doing this to show Ruto's supporters that whatever the President enjoys, his deputy also enjoys. The current constitutional scenario which favours the President is not working in their favour. While they want to portray Uhuru as the gentleman, they are at the same time seeking to portray Ruto as the face of impunity," claimed Kaluma.
Jubilee MPs who spoke to The Standard, however, supported the amendment and said that anyone reading politics in the matter is mistaken.
Eldama Ravine MP Moses Lessonet, (URP) vowed to support the proposed amendments.
"The amendments are progressive and we shall support them. We shall do everything to make sure it sails through. The two are elected together and it makes a lot of sense to give them equal privileges," said Lessonet.
Last year, Jubilee, majority in the National Assembly and the Senate, approved a motion seeking to pull Kenya out of the ICC.
See Also: Witness: Ruto incited Kalenjins to expel Kikuyus
The section that the Igembe MP seeks to enforce reads: "Criminal proceedings shall not be constituted or continued in any court against the President or a person performing the functions of that office during the tenure of office."
 Lobby MPs
He says that this provision is negated by another one that empowers the ICC to institute criminal proceedings against the President.
In his view, it is not only the President who should be cushioned from criminal charges while in office, but also his principal assistant.
"Clause 143(4) negates the preceding provisions in excepting immunity from crimes which the President may be prosecuted under any treaty to which Kenya is party to and which prohibits such immunity, thus removing such immunity through an external treaty," reads the proposed law.
Linturi insists he will lobby MPs from both sides of the House to support his bill and warns against introducing politics into the proposed law.
"I have spoken to many of them and they are going to support this Bill. No one should say this is a Jubilee or CORD bill. If the people of Kenya are giving the President and his deputy immunity from prosecution, then we should not expose them to any other charges as long as they are sitting in office. I want this amendment to form part of the agenda of the Jubilee administration. Parliament has previously expressed itself on the country's withdrawal from the ICC. I am going to lobby members to support the motion," said Linturi.
But Mbita MP Mille Odhiambo dismissed the proposed amendments, arguing that international law supercedes national legislation and Kenya cannot run away from its obligations under the Rome Statute.
She also read politics into the matter, saying it is clear the section that the MP wants to change does not apply to criminal matters.
"He is playing politics and it is an exercise in futility because on crimes against humanity, different principles apply. One cannot hide behind national laws. To me, it makes no difference whether he includes the Deputy President or not. Maybe he is trying to shield some people. You cannot hide under national laws. Let him bring a law protecting miraa farmers and I will support it," said Odhiambo.
-standardmedia.co.ke