Kenyan hospice patient from Arizona arrives in Kenya safely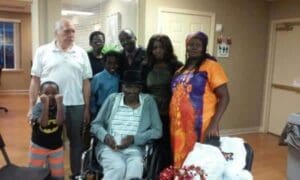 The Family of Josphat Ngugi Gichini,a hospice patient from Arizona are happy to announce that Josphat arrive in Kenya safely.
They had  wanted so much to have him travel back home and  their prayers were answered.
Many Kenyans turned out on Saturday,January 25th 2015 for prayers  and support which was a big encouragement and help to enable Joseph to travel.
The family wishes to thank and appreciate all those in Kenyan and in US who participated in one way or the other to make the journey possible
Though very tired after the travel,Josphat was in high spirit and jovial mood when he arrive in Nairobi.Let keep us keep praying for this Family for Lord perfect will to be done .
By Pastor Joseph Macharia