Miss Kenya wows audience at Miss Universe Pageant in Florida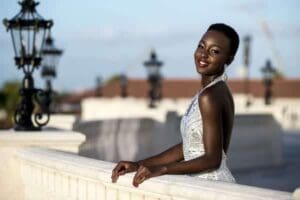 Although Ms Gaylyne Ayugi did not win this year's Miss Universe crown on Sunday night, she received a rousing welcome at the premium event held at the FIU Arena in Doral-Miami, Florida, in the United States.
Ms Ayugi, a journalism student at Zetech University in Nairobi, was among the finalists at the colourful ceremony. The audience burst into prolonged applause when the name of the 21-year-old woman was called.
"She is such a sparkling beauty and reminds me of actress Lupita Nyong'o," said Megan Blitz, a Miami-based journalist. "Although she didn't win, just being in the finals here is itself not a mean feat," she added.
The event, which was watched by tens of millions of people around the world, saw youthful participants from 88 countries take part.
Before Sunday's gala event in which Miss Paulina Vega of Colombia was declared the winner, the number of contestants was narrowed to 15 during Wednesday's preliminary competition.
However, the results were not announced until the live show, which aired from 8pm EST on NBC, a US TV channel.
Although the finals were held in 2015, the pageant's crown represents 2014. Natalie Morales of the "Today" show hosted the event alongside MSNBC News anchor Thomas Roberts.
Celebrity judges included Desean Jackson, Giancarlo Cruz-Michael Stanton, Louise Roe, Manny Pacquiao, Nina Garcia and Kristin Cavallari.
The contestants were judged based on three categories: swimsuit, evening gown and interview.
Ms Ayugi, 21, was born and raised in Nairobi, one of four children, two sisters and one brother.
In an interview last December, she told of how "being a tomboy led me to pursue dancing as a hobby." She joined a platinum dance crew that later on went to become the winner in the 2009 Nairobi street battle.
However, in 2010, she dropped out because of an injury. She says she intends to start a successful fashion company that will open up Kenya to the international fashion market.
Ayugi has been modelling for a year and has participated in five high-fashion events in her country. She has done print modelling for a number of stores in Kenya and also for a makeup pop-up.
She says her life in the fashion industry has grown and she will not stop until she reaches her goal of touching lives through modelling.
"All of the contestants are really beautiful souls and we've gotten to get to know each other during the 20 days and we've become great friends," said Miss Egypt Lara Debbane at the start of the event.
"We're excited and we're going to support each other."
The climax of the evening was when Miss Universe 2013, Gabriela Isler of Venezuela, placed the brand-new crown on this year's winner.
-nation.co.ke