KDF Special Units Capture 8 Al-Shabaab Terrorists Targeting Travellers In Mandera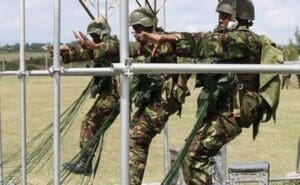 Kenya Special Forces, an elite team from the KDF (Kenya Defense Forces) have today 22nd April 2015 conducted a successful raid targeting a unit of Al-Shabaab terrorists in Mandera County of Kenya.
In the Counter-Terrorism operation, the KDF Special Forces surrounded a terrorist make-shift camp in Omar Jillo before decommisioning the camp and capturing all terrorists.
In the commando raid, all 8 terrorists were captured alive and all their weapons seized.
Military Intelligence reports show that the Harakat Al-Shabaab Al-Mujahideen terrorists were planning to attack a set of buses travelling along the Mandera-Wajir route; on the exact spot they conducted a terror attack in 2014.
This specific terrorist unit was under instructions from Mohamed Kuno aka Gamadheere who is top on Kenya Most Wanted List.
'They were targeting at least 2 buses packed with passengers. Their aim is to discredit the Kenyan government over insecurity by showing that they can attack the same places any time they want. But that is nolonger the case'. Kenya Military Intelligence reports.
The terrorist, 7 Somali's and 1 Kenyan were heavily armed and were in the final stages of conducting a terror attack targeting bus-travelers on the same area they killed dozens of passengers in recent past.
Target Omar Jillo lies near the Kenya-Somali border.
Kenya Defense Forces Commando units have been deployed in specific areas mapped by intelligence services as terror cell operating zones.
The 8 terrorists will be arraigned in court and charged with terrorism.
-intelligencebriefs.com