Kenyan Community Raising Funds To Bury Woman In murder suicide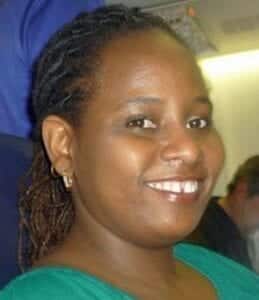 MINNEAPOLIS (WCCO) – Minnesota Kenyans are coming together in tragedy to send one of their own home.
Police say Esther Muchina-Dobie's husband shot her in the head before killing himself.  Their bodies were found in their Savage home a week and a half ago.
Now, a community is trying to raise money to send Muchina-Dobie's body back to Kenya. She was a woman remembered for her bright smile, and a suburban street still wonders what they missed.
Tony Chum lived across the street from Muchina-Dobie and her husband in Savage.
"It's sad," Chum said. "It's really sad."
The couple moved in 15 months ago.
"They were quiet," he said. "They didn't disturb anybody."
That Monday, all was quiet, too, until Muchina-Dobie didn't show up for work.
By 11:30 a.m. police had entered the couple's home through an opened garage door and found their bodies dead in a bedroom. Police this week said Rodney Dobie, 41, used a handgun to shoot his 39-year-old wife before turning the gun on himself.
"We didn't hear no fighting," Chum said. "We didn't hear no gunshots."
Police have no record of any trouble between the couple before, only one complaint of a barking dog.
They'd been married for five years.
The family has asked friends not to speak to the media. But they are asking for help to get Esther's body home to Kenya.
They're hoping to raise $15,000 for her burial.
"That would be perfect for her and her family," Chum said. "They could cope with this a lot easier, a lot better, knowing that she's resting in peace."
There will be a fundraiser at 4 p.m. Saturday. It will be held at North View Junior High School in Brooklyn Park. A fund has been set up at Wells Fargo in the name of Juliah Muthura.
-minnesota.cbslocal.com