Kenyan immigration officer charged over escape Chinese 'racist' restaurant owner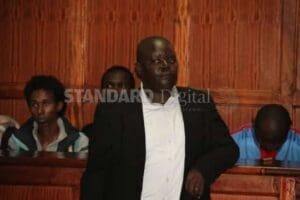 NAIROBI: An immigration officer who allegedly cleared the manager of a Chinese restaurant that was recently closed by authorities in Nairobi over 'racist' rules has been charged at a Nairobi court with abuse of office.
Maurice Okinyi Odero was accused of issuing Esther Zao Yang with an exit permit last month to leave Kenya via Namanga border.
Mr Odero allegedly endorsed Zao's passport with an exit stamp without entering her details in the Pisces system.
According to the prosecution, the accused further issued Zao with a single journey visa for three months without entering her details in the Pisces system on March 2 at the Department of Immigration offices in Namanga within Kajiado County.
The case was transferred from a Kajiado court on grounds that it was an anti-corruption matter.
He denied the charges before Chief Magistrate Hannah Ndung'u and was released on a cash bail of Sh75,000.
The Chinese restaurant was shut down by authorities in Nairobi after it was reported it was barring black patrons after 5pm, prompting a public outcry. The restaurant, situated in Nairobi's commercial and residential district of Kilimani, became a topic of focus after furious residents took to social media to denounce its policy of not allowing Africans to eat there in the evening.
The owners of the restaurant said the measure had been put in place following a robbery and fears of attacks by Somalia's Al-Shabaab militants. "We don't admit Africans that we don't know because you never know who is Al-Shabaab and who isn't," Zao had been quoted.
WORK PERMIT
Zao recently appeared in court on charges of operating the restaurant without a licence and engaging in employment without a work permit.
The prosecution opposed the release of the accused on bail, stating she is a foreign national and a flight risk. Zao was remanded in a women's prison in Nairobi, with a further bail hearing set to take place.
The prosecution had objected to her release on bail on grounds she was a foreigner and had refused to surrender and disclose details of her immigration status.
The prosecution later withdrew their bail application but requested the court that her passport be seized until the conclusion of the case.
The court accepted the prosecution's request and her passport was seized but she was released on a Sh100,000 bail.
The case against Odero will be heard on June 15.
-standardmedia.co.ke