VIDEO HIGHLIGHTS: Kenya Sevens make history after beating Fiji 30-7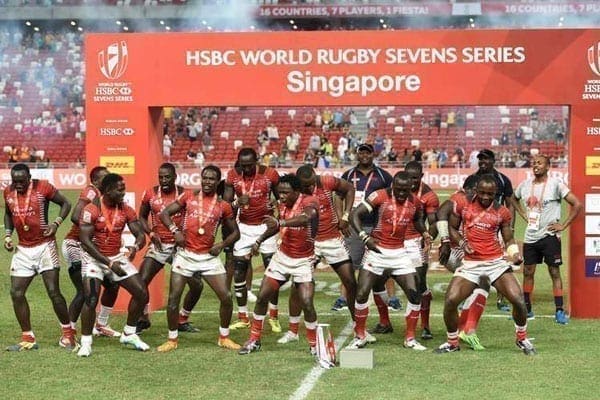 The adoring Kenya Sevens fans Sunday finally got what they have been longing for since the team made their maiden appearance in the World Sevens Series in Dubai in 1999.
Kenya finally won the Cup final Sunday, topping the Singapore leg of the World Sevens Series.
Not only did Kenya Sevens outclass Fiji — who are fondly known as the rugby sevens magicians — 30-7 but prevailed against a side that has reigned supreme in the series since then.
Fiji have won the series twice — in 2005/2006 and 2014/2015 — besides finishing second five times and third four times. They have also won a countless number of legs.
Kenyans have all along moved around the world with the Kenya Sevens as they played in the World Series, which has seen them regarded as among the best fans in the world.
Kenya Sevens team celebrate with the trophy after defeating Fiji in the cup final at the Singapore Sevens rugby tournament on April 17, 2016. PHOTO | AFP
HUGE FANBASE
With more than 6,000 supporters, USA Sevens in Las Vegas could be having the largest Kenyan fan base; Wellington and Australia, too, have been some of the venues where Kenya enjoy support.
It was no wonder that the social media were abuzz with fans congratulating the team after their exploits in Singapore, hence setting an explosive stage for the Rio Olympic Games, where Kenya will not be medal contenders.
Kenya and Fiji have met several times — at the World Sevens Series, Rugby World Cup and the Commonwealth Games. Kenya had only managed to beat the South Pacific islanders twice going into Singapore.
They came close to edging them out in the previous leg in Hong Kong but lost 12-10 in the Cup quarters.
EMPHATIC VICTORY
However, Kenya's emphatic 30-7 victory against Fiji at Singapore Sevens highlights  just how the Kenyan side has come of age in the world of sevens.
Having reached the Bowl semi-finals in the 1999 Dubai Sevens and lost to Scotland 0-41, they finally won their first ever event on Sunday in Singapore Sevens.
Kenya Sevens coach Benjamin Ayimba was in the seven-a-side team that was thrashed 0-71 by Fiji at the 1998 Commonwealth Games in Kuala Lumpur, Malaysia. Fiji marched on to win silver at the "Club" Games.
Eleven years down the line, Ayimba would guide Kenya Sevens to their first ever victory against Fiji, at the 2009 Rugby World Cup Sevens finals.
Then, the Kenyans won 26-7 before Argentina ended their fairy tale run 0-12 in the Cup semis.
Source-nation.co.ke
VIDEO HIGHLIGHTS: Kenya Sevens make history after beating Fiji 30-7