Terror Warning For Prone Areas In Kenya Over Possibility Of Repeat Attacks
Terror Warning For Prone Areas In Kenya Over Possibility Of Repeat Attacks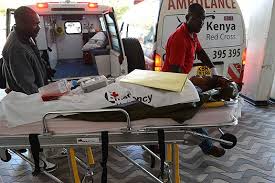 Intelligence shows there is high possibility of repeat attacks or fresh attacks in the following areas
Mandera
Wajir
Garissa
Lamu
Tana River.
Other towns in the country maybe affected. To stymie these threats, the government of Kenya has promptly raised the security alert and security has been improved in critical targets in these areas.
Other areas that require more security are
People traveling at night or even at daylight along lonely highways
Bars and social places near roads
Churches and traffic
Repeat Attacks
Repeat attacks are used by terrorists to showcase their capability to achieve multiple goals, besides show that the capability to strike is not limited to one terror cell, rather many thus reinforce the agenda of radicalizing.
An attack conducted elsewhere can be an activation code for another attack in a different location, actually further away from the first target.
The other objective of a sequeled terror attack is to cause public outcry, embarrass the state security, the government, further making it less popular.
Terror Warning For Prone Areas In Kenya Over Possibility Of Repeat Attacks