UHURU, FIRST LADY PACK THEIR BAGS AND MOVE INTO STATE HOUSE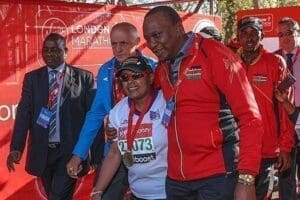 President Uhuru Kenyatta has moved from his private residence on Nairobi's Dennis Pritt Road to State House to allow major construction work and a security upgrade.
In the last few weeks, corrugated iron sheets have been erected around the fence of the President's private residence, sandwiched between Dennis Pritt Road and State House.
Sources initially said that a wall was being built to enhance security at the house that is cheek by jowl with the road, but indications now are that construction of a new house has begun in the compound after the main building was demolished.
President Kenyatta has been living at his private house, inherited from his father Mzee Jomo Kenyatta, and which could be accessed directly from State House.
But his office is at State House where he regularly receives delegations and holds Cabinet meetings.
A State House spokesman, Mr Munyori Buku, agreed to answer some questions but declined to confirm information provided by anonymous sources.
STATE HOUSE WAS UNKEMPT
However, multiple sources indicate that by the time Mr Mwai Kibaki left office in 2013 — after a two-term presidency that started with the starry-eyed Narc administration of 2003 and ended with the cantankerous Grand Coalition — State House, considered the ultimate seat of power and privilege in Kenya's political milieu, is said to have been unkempt.
"The grass had grown to knee-length and the hedges were untrimmed. Some parts of the main house were dirty. In a word, State House was untidy," said a long-serving civil servant who spoke in confidence, adding that even the curtains had to be changed.
Under President Kenyatta, normalcy seems to have resumed in the State House kitchen.
Indeed, last year, some members of the Presidential Strategic Communication Unit (PSCU) stirred some interest on social media when they posted a photograph taken at State House in which they posed with a man they identified as the President's chef.
In contrast, First Lady Margaret Kenyatta is described as "likeable and humble".
MORNING JOGGING
Our sources say she enjoys jogging around the State House grounds on most mornings and rarely interferes with the staff.
The First Lady, who has office space at the National Social Security Fund building, prefers to work from State House where she meets delegations and runs her charity activities.
Renovations have been made to a gazebo in the grounds and two men said to be specialists in preparing nyama choma have been hired.
"Beef — boiled or roasted and prepared the same way as any local pub — is his favourite meal," says a source close to the presidency.
Even though sources say security has been heightened at State House, interviews with staffers indicate there is confusion over some of those who have access.
-nairobinews.co.ke