Embattled Nairobi Senator Mike Sonko, being kicked out to Kwale?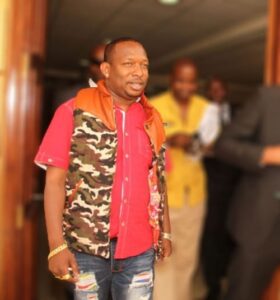 Embattled Nairobi Senator Mike Sonko, who is under pressure from the Senate after skipping eight consecutive sessions without the Speaker's permission, has responded to President Uhuru Kenyatta's Labour Day remarks that were interpreted as a jibe at him.
This comes amid speculations that Devolution Cabinet Secretary Anne Waiguru is being groomed for the Nairobi Governor's post for the 2017 elections. There has also been talk that the new development could see Sonko shifting his base to Kwale, where he is expected to still contest for governorship. The flamboyant senator fired a broadside at his former close ally, Nairobi Women Rep Rachel Shebesh, saying:
"I am not aware of any project that Shebesh has initiated since her election into office."
Another likely entrant who might edge Sonko out of Nairobi politics is loaded investment banker, Dennis Waweru, the current Dagoretti South MP.
Talking to The Nairobian, Senator Sonko said he's not scared of anybody with ambitions to take over Kidero's position.
Regarding Waiguru, Sonko observed that she "is a very hard working CS as we all know, and I don't think politics is a priority for her at the moment. But regardless of who will be in the race, I am not going to step down for anybody. I am a God-fearing man and trust Him to make people elect me," said Sonko. He dismissed claims that he is planning to relocate to Kwale as "cheap propaganda cooked by my opponents who are scared of facing me at the ballot."
See Also: Asante Watu Wangu: Sonko thanks all who helped rescue Makini School pupils stranded in Nairobi floods
He added: "Sometimes I wonder why Sonko all the time – from claims that I can't pay my rent to allegations that I am drug dealer. What do these people want?"
Senator Sonko's political fortunes seemed to have taken a nose dive when the president took a public dig at him asked him to accept the fact that Dr Evans Kidero is the reigning and duly elected governor.
In an off-the cuff remark, Uhuru asked Nairobians to support the governor because they are the ones who elected him and told Senator Sonko to let Kidero finish his term.
The political tiff between the governor and the senator stems from Sonko's attempts to buoy his popularity using the Sonko Rescue Team, whose services compete with those that should be delivered by the Nairobi City County government.
Sonko Rescue Team offers ambulance and towing services, and funds wedding and funeral transport, as well as drilling of boreholes, firefighting and garbage collection.
On the president's remarks, Sonko said he has a cordial relationship with Uhuru and blamed the media for misinterpreted the president.
"This is not the first time the media is doing this. Previously, they reported that State House had given me a 'blackout.' The president and I have that 'big bro-small bro' kind of relationship. In fact that is how we refer to each other away from politics," claimed Sonko. He explained that, "What the President meant was that it was important to respect the presidency and all elective posts in that descending order until the next elections."
During the Labour Day celebrations, a section of the crowd started chanting Sonko's name, seeking to be addressed by the senator. But Sonko said that, "I really don't have much control over that. He has never had a problem with what I do as long as it's not political but development oriented."
During the interview, the senator showed us what he claimed to be a message from the president's private secretary, Jomo Gecaga, in which he was being encouraged to continue working with the people. 'The boss says you keep it up bro and do not be discouraged at all…,' read part of the message.
Another message, also allegedly from State House invited him to accompany the president on his trip to Bomet. He said he couldn't honour the invitation as he was unwell at the time
-sde.co.ke